Cyberattacks will compromise 1-in-3 healthcare records next year
Virtual care to become the norm.
The Florida Hospital's simulator mimics procedures performed by a da Vinci robotic surgical system, the most common equipment in use today; it's used for hundreds of thousands of surgeries every year around the world.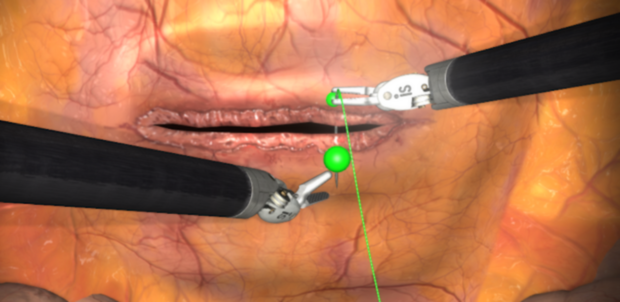 A Mimic Simulator teaches a surgeon how to suture an incision using laparoscopic instruments. Credit: Mimic Simulations
Today, da Vinci surgical robots allow physicians to perform surgeries yards away from patients, sometimes even behind glass in spaces adjoining operating rooms.
Physicians watching the virtual telesurgery using laparoscopic instruments on video 1,200 miles away couldn't even detect a lag time, according to Smith.
IDC Health Insights also predicts that within three years, "virtual care" will become routine, and by 2020, 80% of consumer service interactions will make use of Internet of Things (IoT) and big data to improve quality, value, and timeliness.
As more information is online and online communications continue to develop, more patients will opt to use instant messaging, email and video chat sessions instead of spending hours driving to doctors' offices and sitting in waiting rooms, IDC predicted.
Last year, research from Deloitte revealed one in six doctor visits are already virtual.

A physician uses a da Vinci robotic surgical system to perform remote laparoscopic surgery. Credit: Mimic Simulation
The overall cost of in-person primary physician visits worldwide is $175 billion, according to Deloitte. Globally, the number of eVisits climbed to 100 million last year, potentially saving over $5 billion when compared to the cost of in-person doctor visits. The eVisit projection represents growth of 400% from 2012 levels, Deloitte's study showed.
Hospitals are vigorously rolling out patient care web portals that allow consumers to not only virtually communicate with physicians, but also see laboratory test results.
Last year, for example, the University of Pittsburgh Medical Center (UPMC) revamped its patient portal, renaming it MyUPMC, and rolling out AnywhereCare, offering patients throughout Pennsylvania eVisits with doctors 24 housr a day, seven days a week either over the phone or through video conferencing.
UPMC, an $11 billion health care provider and insurer with 21 hospitals and more than 400 outpatient sites, said its AnywhereCare service has an 80% satisfaction rating. Patients love the convenience and speed of remote care, according to Natasa Sokolovich, executive director of telemedicine at UPMC.
Elderly patients and patients convalescing with mobility issues, in particular, will find an advantage in using virtual doctor visits so that they won't be forced to commute to and from healthcare facilities.
It will also let physicians offer routine care, whether it's to answer questions or monitor their ambulatory patients through remote devices.
Previous Page 1 2 3 4 Next Page