Deep inside Windows Blue: 10 coolest features in Microsoft's leaked OS
An early build of Microsoft's big Windows 8 update has hit the web, full of nifty new tricks and hints of awesome incoming features.
3. Super SkyDrive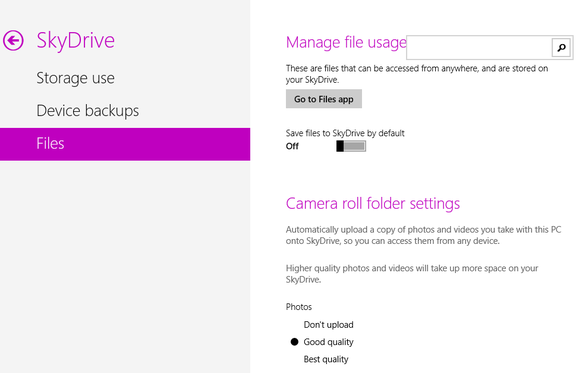 The modern-style SkyDrive app is not the same as the desktop SkyDrive app. That difference is glaring in Windows 8, where the modern-style app can only access files previously stored in your SkyDrive--it has no ability whatsoever to sync new files to the cloud. That may change with Windows Blue.
Hidden under the new SkyDrive section of the PC Settings is a Files submenu--shown above--that hints at the addition of a file-syncing option in Windows Blue. The so-called Files app isn't actually in Build 9364, and clicking the button doesn't do anything, but the as-yet-useless option stokes hope for a more full-featured SkyDrive.
4. Internet Explorer 11

Also found in Windows Blue: Internet Explorer 11. It's a very early version of Microsoft's next-gen web browser--so much so that, functionally, it's the exact same as Windows 8's Internet Explorer 10. Under the surface, however, lies an intriguing hint of a new feature for the browser.
Buried inside the "More options" button in the top-most menu bar is an option dubbed Show synced tabs. Like the SkyDrive Files app, IE 11's synced tabs are currently inoperative, but they're intriguing nonetheless. Internet Explorer 10 already introduced synced bookmarks and history to Microsoft's browser. Were those just the beginning? It'll be interesting to see if and how the new tab syncing function fits into the various IE iterations spread across Microsoft's various platforms. Windows Blue updates are rumored to be rolling out across all of Microsoft's core properties, after all.
5. New apps?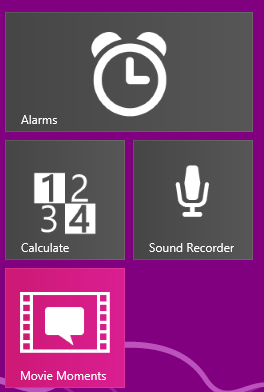 Alongside the usual Mail, Maps, and Music tiles you know and love/loathe, a quadruplet of new apps appear on the Windows Blue Start screen: Alarms, Calculate, Sound Recorder, and Movie Moments.
Everything about Movie Moments seems genuine Microsoft, from its "Microsoft confidential" warning screen at launch, to its Live Tile design, to its overall interface, which mirrors the look of the SkyDrive app. Alarms, Calculate, and Sound Recorder, on the other hand, seem handy but a bit too simplistic to be first-party Microsoft products. Plus, their Live Tiles are simple icons on a black background--eschewing the colorful hues Microsoft normally uses with its Windows 8 apps.
That's not to say that they aren't necessarily default Windows Blue apps, but it's worth pointing out that the trio could've been added by the third-party source of the leak. As Neowin first mentioned, the ISO of the build is 9364.0.FBL_PARTNER_OUT13.130315-2105_X86FRE_CLIENT_EN-US, suggesting that the leak came from one of Microsoft's French partners.
6. New Live Tile size options
Previous Page 1 2 3 4 Next Page