Deep inside Windows Blue: 10 coolest features in Microsoft's leaked OS
An early build of Microsoft's big Windows 8 update has hit the web, full of nifty new tricks and hints of awesome incoming features.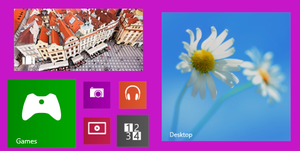 In Windows 8, you have two basic Live Tile sizing options: A medium-sized square, or a larger rectangle the size of two of those squares combined. Windows Blue ups the customization ante with the introduction of two new tile sizes. One's an itty-bitty square a quarter of the size of Windows medium Tiles, while the other is a massive Tile as big as a pair of Windows 8's larger rectangular tiles.
The additional sizing options afford a lot more customization flexibility, giving you the ability to craft a Start screen that isn't quite as grid-like as what you're limited to in Windows 8. In that, Windows Blue's tile sizing options mirror the flexibility of Windows Phone 8's Live Tiles.
7. Buh-bye, accidental tile shifting
One of the biggest frustrations of the Windows 8 Start screen is how easy it is to accidentally move a Live Tile to a new location. If you move the mouse even a little bit while clicking on a Tile, the screen shifts to Semantic Zoom to allow you to move the Tile to another location, rather than simply opening it. Windows Blue eliminates that frustration with a new Customize button.
You can't rearrange Live Tiles in Windows Blue unless you right-click on an empty portion of the desktop, then click a brand-new Customize button. You'll need to unselect the Customization option in to once again use Live Tiles normally. It's a simple alteration, but a welcome one.
Interestingly, the All Apps button--the only one available in the Start screen options bar in Windows 8--has been scrubbed from Windows Blue.
8. New gestures
That doesn't mean the All Apps screen was eliminated from Windows Blue, however. The Verge reports that Windows Blue includes new gesture controls, including the ability to swipe up from the bottom of the Start screen to reveal all of your installed apps. Swiping up from the bottom of the desktop reveals a hidden app bar that includes snapping and projector options, amongst other things.
9. Easier personalization
While we're on a Start screen kick, it's worth mentioning that Windows Blue makes it much easier to change the look of the modern UI. In Windows 8, the personalization options are banished to the darkest corner of the OS, buried deep in submenu after submenu. In Windows Blue, a Personalization option appears in the level of the Settings charm, right above the familiar Tiles and Help options.
10. Simple screenshot sharing

Maybe it's because I work for the Internet, but I love anything that streamlines the process of taking and sharing operating system screenshots. Windows Blue adds the ability to share a screenshot of the app you're working in using other modern-style apps you have installed, similar to Android's sharing function.
Previous Page 1 2 3 4 Next Page