FAQ: Everything you need to know about the Apple Watch
Catch up on everything we know about the Apple Watch before its April 24 debut.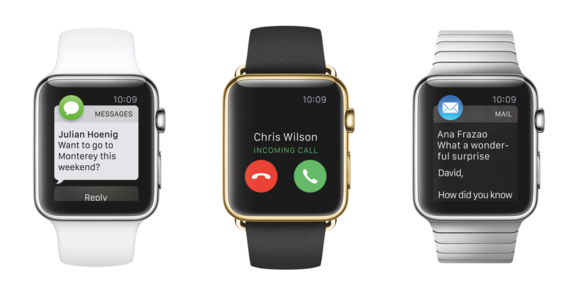 Apple Watch debuted six months ago, which was plenty of time to think up all kinds of questions that company didn't answer the first time around. How long does the battery last? How will Apple Pay work? How much do the things even cost?
Apple put the watch on display again at its recent "Spring Forward" event, and this time gave some concrete details. Here's everything you need to know about Apple Watch before it goes on sale April 24. Got more questions? Let us know in the comments, and be sure to check back for the full Macworld review at the end of April.
So, Apple is finally making a smartwatch, huh? Yes it is--several, actually. The Apple Watch will have three editions, varying in materials and luxury: the Apple Watch, Apple Watch Sport, and Apple Watch Edition.
What are the differences between those three? Apple Watch is made of stainless steel, in a shiny chrome or a space black finish. Its touchscreen is covered by sapphire crystal, which should make it more scratch-resistant than the Gorilla Glass Apple has used on its iPhones. Prices range between $549 and $1,099, depending on whether you buy the 38mm or 42mm case and which band you choose.
Apple Watch Sport has an anodized aluminum case (which is lighter than stainless steel) in silver or space gray, and the face is Ion-X glass, which also designed to be hard and rugged (as well as a little bit lighter) than the sapphire. It's definitely the lightest of the three Apple Watch editions, making it an ideal exercise companion. It's also the cheapest option at $349 for the 38mm version and $399 for the 42mm model.
As for the Apple Watch Edition, it ramps up the luxury factor with an 18-karat gold casing in yellow or rose. As you might expect, it's heavy. Gold, y'know. The Apple Watch Edition also comes in a fancy leather box that doubles as a charging cradle! It also costs about as much as an entry-level car, ranging from $10,000 to $17,000, depending on size and band choice.
Are there multiple models because one size doesn't actually fit all? Yes, each edition comes in two sizes, which is something we haven't seen with any Android Wear watches so far. You'll be able to get the Apple Watches in heights of 38 and 42 millimeters--about 1.5 and 1.65 inches, respectively, if you've had it up to here with the metric system. The Watch's promotional videos feature plenty of women wearing the watch, which is especially nice to see, since other smartwatch makers appear to be ignoring those of us with slender wrists.