Five overlooked abilities of the Finder's Path Bar
What's the Path Bar? It's the quickest way to see where a file is in your file hierarchy, and it often provides the quickest way to move the file, too. Here are five tips for taking advantage of this overlooked tool.
4. Drag a folder within the Path Bar to move it
Working with files in the Path Bar can be a big time-saver. Say, for instance, you notice something is in the wrong place in the path (you put FebNews inside JanNews instead of the parent folder Newsletters). You can fix everything right within the Path Bar by moving the FebNews icon into the Newslettersfolder icon.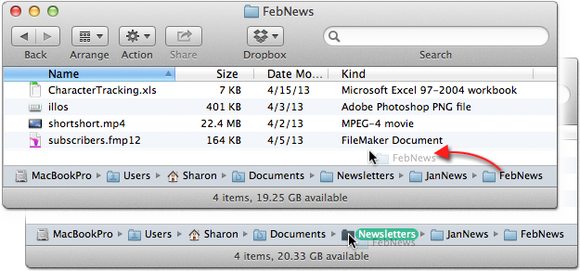 You can work entirely in the Path Bar when you want to change a folder's position in its hierarchy. Just drag the folder into the desired parent folder.
5. Navigate search windows with the Path Bar
The Path Bar is an everyday, every-window convenience, but is especially useful in Finder search windows. While a standard window displays the contents of a single folder and the Path Bar shows its path, a search window lists items from all over the place, and its Path Bar shows you where any selected item lives. (If you make multiple selections, the Path Bar cleverly shows the nearest folder that they all have in common.)
So, if you get a dozen hits for, say, FebNews, you can select each one in turn to see its path. When you find the one you want, you can check what else is in its folder by double-clicking that folder in the path bar oreven better in most circumstancesusing a Command-click to open it in a separate window, keeping your found list at hand so you can check the other items.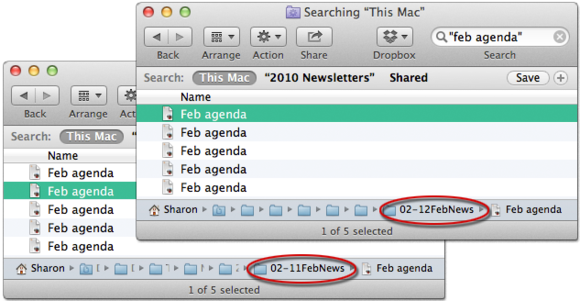 Select an item in a Search window to see its path. This technique is especially convenient when you have identically named files or folders.