Four stylish on-ear headphones worth hearing
Comfortable, portable, on-ear headphones aren't hard to find, but ones that sound and look great are. We tested four head-turning models that claim to satisfy your ears.
When Bowers & Wilkins released the $300 P5 Mobile Hi-Fi Headphones (4.5 rating on a 1-to-5 scale) back in 2010, the company essentially introduced a new headphone category: comfortable, high-quality, portable, on-ear headphones that--perhaps most notably--looked great. The P5's clever Apple-esque design touches and classy, leather-upholstered style made it look like a fashion accessory for successful executives, yet it also sounded great and blocked an impressive amount of external noise, making it an ideal portable model for people who aren't fans of in-ear headphones. In fact, Macworld gave the P5 an Eddy Award in 2010.
Three years later, the P5's influence is visible in products from many other companies: After releasing the full-size Aviator ($150) two years ago, Skullcandy recently followed up with the on-ear Navigator ($100). Meanwhile, V-Moda offers the Crossfade M--80 ($200), a smaller, more refined version of that company's full-size Crossfade LP (also $200). RHA has attempted to make such headphones more affordable with the SA950i ($60), and even B&W has worked to broaden its reach with the P3 Headphones ($200), a less expensive version of the P5.
Each of these four models follows the P5's example in attempting to create attractive, portable, great-sounding on-ear headphones (or more accurately, headsets: each model includes an Apple-style, three-button remote/microphones module). Like the P5, they use earpieces with a supra-aural design--each earpad sits on the ear rather than around it--yielding smaller, more-travel-friendly earpieces than full-size circumaural designs offer. And these earpads are designed to block outside noise to some degree. Finally, each model offers a generous warranty and replaceable cables, the latter to ensure that the headphones provide useful life beyond the warranty period. (The cable is the most frequent point of failure for headphones.)
RHA SA950i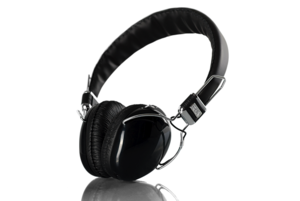 RHA is a British headphone company that produces high-quality, attractive headphones at relatively low prices without skimping on premium features. Indeed, the SA950i looks great given its $60 price. The headband and earpads have a leather-like texture, and the glossy-black earpieces are somewhat similar to those of Skullcandy's Aviator and Navigator. Chrome highlights grace the design as well. When I pulled the review sample out of its shipping box, I guessed that it cost two or three more than it actually does.
The SA950i features a three-button, Apple-style inline remote and microphone module for controlling music and taking phone calls. The fabric-wrapped cable attaches to the left earpiece via a standard 3.5mm miniplug. Unlike the other models here, the SA950i doesn't come with a carrying bag or case--or any other accessories--but RHA does provide a three-year warranty.
Comfort is good for a model of this size, with adequate earpiece and headband padding and light weight, though the SA950i doesn't feel as sturdy as the other models here. People with large heads should try out this headset (or any of the other three reviewed here) before buying, as its small size and sealed design put more pressure on a wearer's ears and head than most full-size models do. For my large head, however, the SA950i exerted the least pressure of the four models I tested. The disadvantage of the less tight fit is that the SA950i offers less noise isolation than the other three headsets.