Hands on: Nokia Music app for Windows 8 hits the right notes
In the absence of an official Pandora app in the Windows Store, Nokia Music shows up with a simple, yet strong Windows 8 app.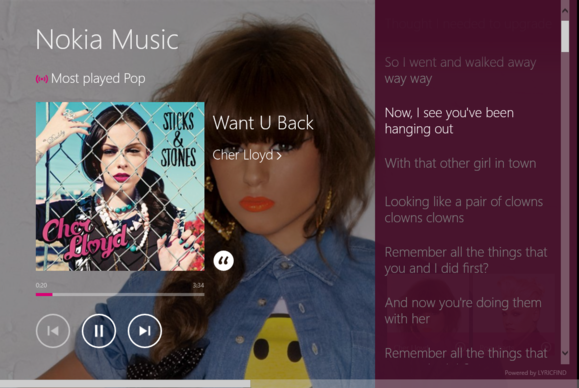 Following on the heels of an updated Windows 8 Music app from Microsoft, the software maker's BFF in the mobile space has released its own Windows 8 modern UI jukebox. Nokia Music is now available from the Windows Store as a free download, providing access to Nokia's Music+ subscription service, which launched in the U.S. in February for $4 per month.
If you've never used it, Music+ is similar to Pandora or Spotify's free radio service, allowing you to listen to an uninterrupted stream of music in the form of playlists--known as "mixes" in Nokia's parlance--defined by genre, artist, or themes, such as "most played country music."
The new Nokia Music Windows 8 app features a one week trial of Music+, unlimited skips to pass over songs you don't care for, offline playlist listening, song lyrics, artist bio pages with concert listings, and access to your Windows music library. Without a subscription to Music+, Nokia Music only plays 30-second snippets of music you don't personally own.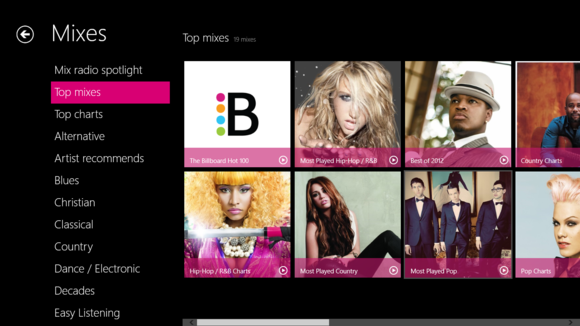 Nokia Music's Music section.
If you're an Xbox Music fan on Windows 8, the look and feel of Nokia Music will be immediately familiar. Each section of the app is divided up into a series of tiles showing you a list of available mixes, recent mixes you listened to, mixes you've created, and your own music library. Unlike the Windows 8 Music app, which shows your Windows Music library first, the track you're currently listening to on Nokia Music is the first thing you see when you fire up the app.
That "now playing" section is comprised of a nearly full-screen background image of the artist, along with basic music player controls: Play, forward, and back. Since Music+ is an Internet radio-style service the back button only works when listening to tracks you own. Tapping or clicking on the song's name opens a Web page on Nokia Music where you can buy the track, and tapping on a quotation mark shows song lyrics powered by LyricFind.
If you tap the artist's name you open an artist page inside the app featuring artist bios, mixes that include the artist, upcoming gigs, and a list of similar artists. Some of the pages for more well-known artists also feature recent tweets from the performer's official Twitter account.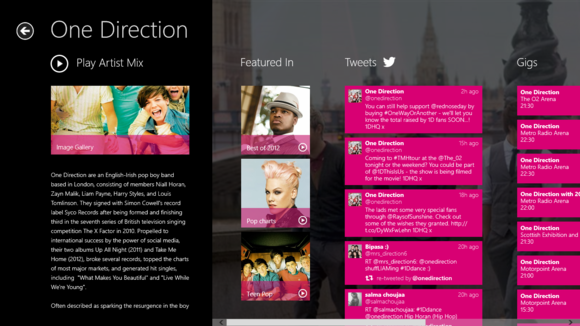 Clicking on an artist's anme reveals additional information.
With Nokia Music, what you see is pretty much what you get. There are very few hidden controls exposed by a swipe up or right-click, other than a Buy link and a "now playing" icon. Swiping down from the top automatically saves the currently playing mix for offline listening. One nice feature hidden in the app's settings offers the ability to set the currently playing artist's wallpaper as your lock screen, which changes as the tracks change on your mix. You can also push tunes to DLNA-equipped hardware in your home theater.