How Samsung can still win the looming smartwatch wars in an Android Wear world
Google's smartwatch OS looks breathtaking, but there's still a path for Samsung's Gear devices to capture the public's imagination.
Bottom line: Pricing matters, and a $200 Gear Fit Neo might find a sweet spot in consumer hearts if the basic Samsung experience can deliver as well.
Samsung does own the smartphone space after all
When you're a tech journalist who has direct, pre-release access to practically every smartphone the mobile industry releases, you run the risk of subscribing to a version of the false equivalence fallacy: You test and write about all the devices, so you mistakenly begin to see them on somewhat equal footing, at least in terms of brand recognition.
But the fact of the matter is Samsung is the dominant player in smartphones, and where smartphones go, smartwatches follow. That's positive news for the wearables that Samsung revealed at Mobile World Congress in February.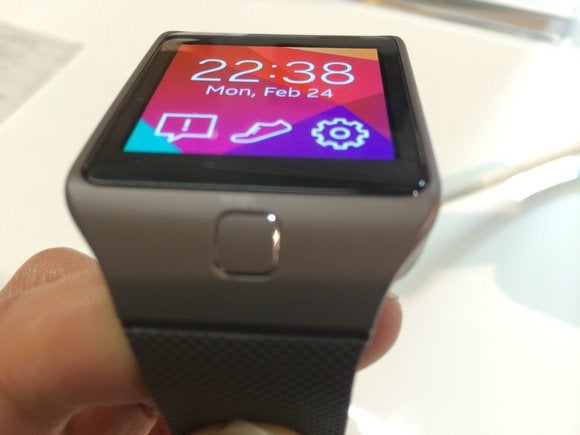 IMAGE: MELISSA RIOFRIO. The Gear 2, along with its two stablemates, will inevitably be pushed, nudged, and paraded in front of the greater world at large.
Samsung has already demonstrated that it's willing to pour more marketing dollars into wearables than any other manufacturer—you've surely seen the TV commercials. And as the Gear 2, Gear 2 Neo, and Gear Fit roll out next month, they'll enjoy support from Samsung's sprawling retail and customer-outreach infrastructure. Add in the fact that Samsung's new wearables will work with many more handsets that the original Galaxy Gear (addressing a serious complaint in many reviews), and we begin to see a path where Samsung carves out a tenable smartwatch business.
LG? Motorola? HTC? They're names most consumers recognize, but their marketing war chests are tiny, and not that many world citizens are actually using their mobile gear at this time.
Oh, wait. Features sell hardware too
Samsung's new wrist gadgets all feature heart rate monitors. The Gear 2 comes with a camera, and Samsung has already proven out great image-capture on the original Galaxy Gear. And then there's the luscious curved display on the Gear Fit. The display itself could be the one thing everyone talks about when Samsung's new Gear line-up hits the public eye on April 11.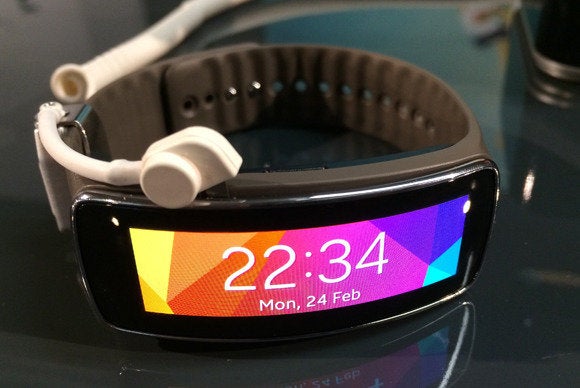 The Gear Fit's curved display is a feature with (sorry) major hardware sex appea
In total, Samsung is selling a story about features. But, so far, in all we've absorbed about Android Wear hardware (and, granted, it's been less than 24 hours), it would seem Google's story is a Google Now story—end of story, full-stop. As I wrote yesterday, Android Wear looks fan-bloody-tastic. But we don't yet know how cameras will integrate with the OS, or what Android Wear really delivers beyond the basic Google Now experience, as wonderful as it is.