How Samsung can still win the looming smartwatch wars in an Android Wear world
Google's smartwatch OS looks breathtaking, but there's still a path for Samsung's Gear devices to capture the public's imagination.
And here's another important question: Will Google's various Android Wear partners be able to effectively differentiate user experience? The Moto 360 has a circular screen. The LG G Watch is square. Are these "features"? How will one Android Wear watch really be different from another? If nothing else, Samsung's Gear line will distinguish itself with a glorious excess of features, whether they're all successful or not.
Meet Samsung, the Android Wear partner
Its essential to note that Google listed Samsung in its roll call of Android Wear partners. It's unclear if this means Google is working with Samsung to ensure Samsung phones support Android Wear watches; if Android Wear is being optimized for Samsung mobile chips; or if Samsung is developing an Android Wear-based wearable.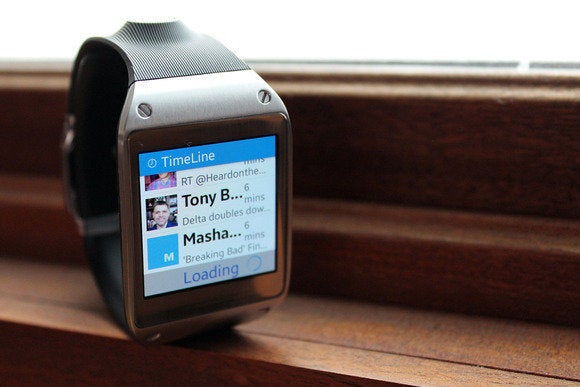 The original Galaxy Gear ran Android, and Samsung can always return to the family home.
But at this point Samsung can do anything it wants with Android Wear. It can release a Google Now watch just like all the Android universe small fry. It can also drop Tizen and switch back to Android if the laws of ecosystem economics require an about-face.
"Samsung is an announced partner for Android Wear, and we should see Android Wear devices from Samsung later this year," says Daniel Matte, a Canalys analyst who focuses on the wearables market. "I'm not sure if Samsung will seriously commit to Tizen... It's extremely challenging to drive developer interest and an application ecosystem around a new platform. Samsung's best path to success may well be marketing execution, supply chain management, and speed based on the Android Wear platform—similar to its current success with Android."
And so we wait...
As stated above, Android Wear is still rife with unknowns. And Samsung's Gear line-up hasn't yet been scrutinized beyond a few first looks. I wouldn't claim Samsung will win the smartwatch wars, hence the cautious "can" phrasing in my headline. But it's fun to conjecture who has the upper hand, if only at this early juncture.
Or who knows: An Apple iWatch might jump in and make all the other players look like amateurs. It's a fascinating time for a fascinating hardware space. Yesterday was a very big day for wearables. Let the war games begin.
Previous Page 1 2 3