Intel approached AMD about access to Mantle
Intel has approached AMD about access to its game-boosting Mantle technology, an AMD executive said Friday.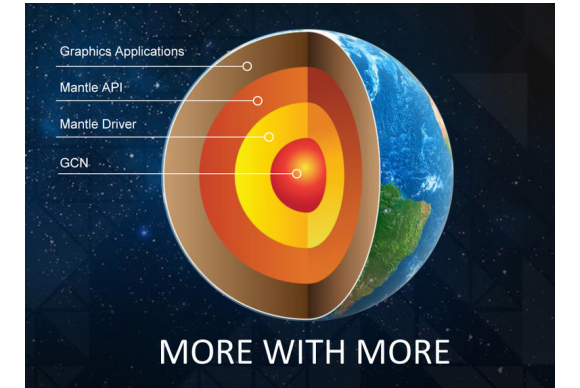 Intel has approached AMD about access to its game-boosting Mantle technology, an AMD executive said Friday.
Intel, for its part, confirmed that it has indeed asked AMD for access to the Mantle technology, for what it referred to as an "experiment". However, an Intel spokesman said that it remains committed to what it calls open standards like Microsoft's DirectX API.
AMD launched its low-level Mantle API technology last year, providing a low-level code path for game developers. Microsoft's own DirectX APIs or the open OpenGL API provide generic instruction sets for a variety of graphics chips, including those from Intel and Nvidia. But by writing "to the metal," as it were, developers can write instructions optimized for a particular graphics architecture, dramatically increasing the game's performance on that particular chip. Early tests show that a game like Battlefield 4, optimized for Mantle, can show gains of up to 58 percent in terms of frame rate compared to DirectX, though performance gains vary greatly by hardware configuration.
Nvidia has also reorganized its gaming libraries, including its PhysX engine, into what it calls GameWorks. Nvidia has licensed GameWorks to Crytek and Ubisoft (which used GameWorks in Watch Dogs), while AMD has signed up about 47 game developers for Mantle, according to Richard Huddy, AMD's "gaming scientist," in an interview.
That has turned the competition between Nvidia and AMD into a race to sign up developers. Meanwhile, gamers are watching eagerly to see if their games will receive a free boost from adopting one graphics technology or another.
Intel on the sidelines?
So far, the fight has been between AMD and Nvidia, which combined sold about 33 percent of the GPUs sold during the second quarter, according to Jon Peddie Research. The remaining two-thirds of the market is owned by Intel, which hasn't publicly committed to an architecture-specific API.
Huddy previously worked as chief gaming evangelist for Intel. He declined to comment when asked if Intel was working on its own Core-specific API.
"I know that Intel have approached us for access to the Mantle interfaces, et cetera," Huddy said. " And right now, we've said, give us a month or two, this is a closed beta, and we'll go into the 1.0 [public release] phase sometime this year, which is less than five months if you count forward from June. They have asked for access, and we will give it to them when we open this up, and we'll give it to anyone who wants to participate in this."
An Intel spokesman confirmed that it had made the request, but downplayed any Intel-specific low-level API plans.