Is the ASUS X205 Microsoft's Chromebook killer?
Low-priced, lightweight Windows 8.1 device challenges Chromebooks in low-end notebook market.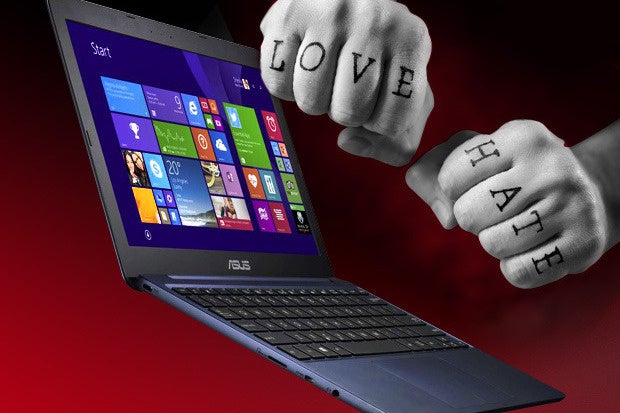 The ASUS X205 is one of three Windows 8.1 notebooks, all released in November, designed to halt the encroachment of Chromebooks into the low-end Windows notebook market. (The other two are the HP Stream 11 and HP Stream 13.)
With 32GB onboard storage (an eMMC memory drive) and retail price of $199, the X205 matches the cheapest Chromebooks, such as the Acer Chromebook 11, which also starts at $199. During the recent holiday season, the ASUS X205 was offered at even more aggressive pricing -- $179 from the Microsoft Store to as low as $99 from Best Buy and Staples.
Let's run through the features and functionality of the ASUS X205:
UNDER THE HOOD: The X205 comes with 2GB RAM and an Intel quad-core processor that was originally designed for tablets and is clocked at 1.33 GHz. It's a 64-bit processor, but for some reason, this notebook comes installed with the 32-bit version of Windows, Windows 8.1 with Bing. This version of Windows sets Bing as the default on Internet Explorer, but this does not prevent you from visiting Google.com or installing another browser like Chrome.
APPEARANCE: The X205 is available in four colors: black, gold, red and white. Its bottom, lid, and keyboard paneling are a finely matted plastic. Unfortunately, this material easily picked up smudges from my fingers and hands no matter how much I would keep my mitts washed. In slight contrast, the bezel and keyboard keys both appear to share a plastic that has a rougher surface, which protects them from being stained as easily.
WEIGHT: This is one of the lightest notebooks you can buy now with an 11.6-inch screen, weighing at less than 2.2 pounds. It's a bit lighter than the HP Chromebook 11, which is one of the lightest Chromebook models at 2.3 pounds, and even lighter than the 11.6-inch screen MacBook Air (2.4 pounds). The physical dimensions of the X205 are similar to the MacBook Air, though not as thin as the Air at its thinnest point.((The X205 doesn't have a removable battery -- its battery is sealed inside the case.
COMFORT: With its lid shut, the X205 has a very slight wedge profile. I found it comfortable to hold with one hand whenever I had to, whether its lid was closed or fully open, without feeling as if my wrist was straining.
STORAGE: On its 32GB eMMC drive, there's barely 13GB of free space for you to use to put your personal files on, but the total size of this drive is listed as being 21GB. The missing 11GB has been set as a hidden partition where the recovery installation files for Windows 8.1 are stored. X205 owners get 500GB of online storage for free for two years on ASUS' WebStorage service. Microsoft also gives 100GB of online storage on OneDrive, also for free for two years.