Kaspersky Internet Security 2014: An all-around performer
Kaspersky's security suite will keep you safe and sane with top notch protection and intuitive design.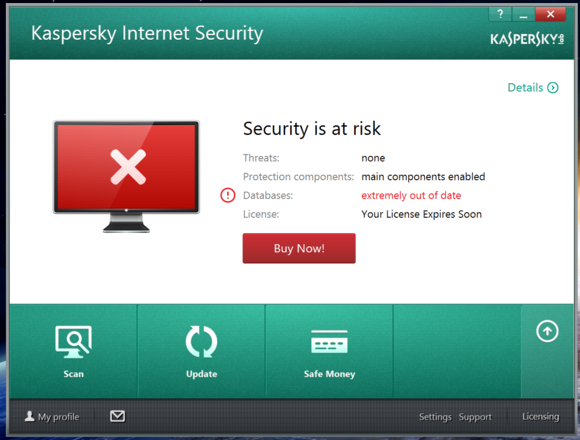 The best security suites are the ones you never notice, because they work silently in the background. But when you want to dig into the settings, you'll appreciate dealing with a well-designed user interface that even a novice can understand.
Kaspersky Internet Security 2014 ($60 for one year of protection on up to three PCs) is one such suite. It offers great protection, and its design works well on touch and nontouch systems.
In AV-Test's real-world battery of tests involving Web and email threats, Kaspersky blocked 100 percent of zero-day attacks, matching the performance of Eset Smart Security 7, F-Secure Internet Security 2014, Norton Internet Security 2014, and Trend Micro Titanium Maximum Security 2014, and making it one of the strongest security suites in our roundup. AV-Test's baseline security program, Microsoft Security Essentials, blocked just 71 percent of zero-day attacks. Kaspersky also sailed through our malware zoo test (identifying and blocking widespread known malware that had been discovered within the previous month), stopping 100 percent of attacks.
Kaspersky's algorithm is tight: Internet Security 2014 didn't flag a single nonthreatening website as risky, nor did it falsely block or issue warnings to users installing legitimate software. During system scans, Kaspersky didn't flag any legitimate programs as unsafe. The most trigger-happy packages in our roundup—F-Secure, Vipre Internet Security 2014, and Webroot SecureAnywhere Internet Security Complete—registered five false positives each.
Internet Security 2014 is also one of the lightest-impact suites in our roundup, scoring a 1 (a mark bested only by the far less effective Webroot SecureAnywhere suite) that reflects minimal adverse impact on overall system performance.
Installing Internet Security 2014 is easy. You have just four screens to click through, and the suite doesn't try to push additional software or settings changes. The only potential hiccup during installation arises if Kaspersky detects "incompatible" software, such as a rival antimalware suite, in which case it asks you to uninstall the offending program. Uninstalling a competing suite may require a reboot, but simply installing Kaspersky's suite does not.
Kaspersky's interface is optimized for Windows 8 without having too distinctly a Metro style. Though buttons are large and easy to click, not every setting is a colorful square.
The main screen features a big computer icon with several large button icons beneath it. A checkmark on the computer icon indicates protection, and you can click the icon for details about any security issues. The buttons provide quick links for scanning your system, updating your security database, and accessing Safe Money, which protects your online banking and payment information. Tap an arrow to the right of these links for access to features including reports, parental controls, and quarantined files.