Linksys EA8500 Max-Stream Wi-Fi router review: MU-MIMO works (more or less)
It's too early in the MU-MIMO life cycle to buy a MU-MIMO router, but the EA8500 makes a fabulous host for a NAS drive.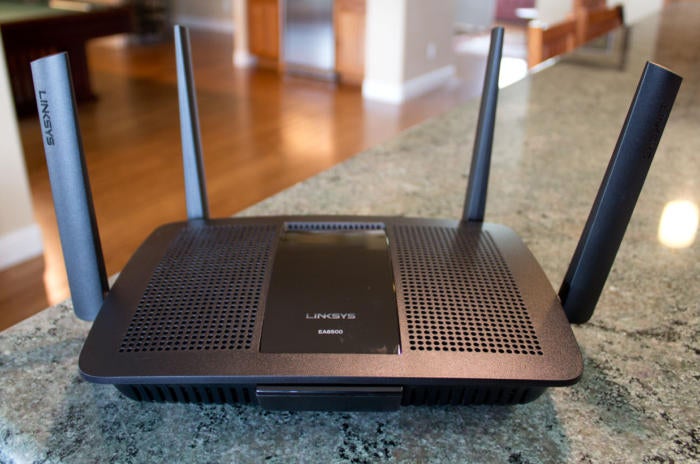 Next-generation Wi-Fi technologies typically usher in a new generation of top-shelf products. That's not the case with multi-user MIMO (MU-MIMO), at least not with the first 802.11ac router to feature it. Linksys is positioning its EA8500 Max-Stream Wi-Fi AC2600 MU-MIMO Smart Wi-Fi router (don't worry, I'll just call it the EA8500 from here) one notch below its best offering. As you'll learn from this review, that's a wise move on Linksys's part.
MU-MIMO "ready" routers have been on the market for months, but the feature remains dormant in those products because the firmware needed to turn it on is yet to be released. The EA8500 is the first router to use Qualcomm's brand-new QCA9980 chipset, and its MU-MIMO capabilities are enabled right out of the box.
Here's a brief recap of MU-MIMO, if you haven't heard of the technology: All previous 802.11ac (and 802.11n) routers have been SU-MIMO (single-user MIMO) devices, meaning they can service only one client at a time. When they need to service multiple clients, they divide time into thin slices and talk to each one in a round-robin fashion. Each client's turn comes fast enough that you won't to see the impact of this time slicing, unless several of the clients are performing latency-sensitive tasks such as streaming video.
If those clients don't buffer enough information, you could experience hiccups in the video streams. A MU-MIMO router can talk to all its clients without resorting to the round-robin trick. Because the various streams are never interrupted, you shouldn't see any glitches even if several clients are streaming video.
As you've probably guessed, however, MU-MIMO must be supported by both the router and the client in order for the technology to work. When paired with a SU-MIMO client--as almost every laptop, smartphone, tablet, and streaming device in the world is today--the router must go back to the round-robin technique. Because you can't buy a product today that has an onboard MU-MIMO Wi-Fi adapter, Linksys provided us with three Dell Inspiron 13 laptops in which they replaced the stock Intel Wi-Fi adapters with Qualcomm MU-MIMO Wi-Fi adapters.
How I tested
I ran my first sets of benchmarks the way I always do, measuring TCP throughput using JPerf (the Java front-end to IPerf). I used an AVADirect gaming laptop with an integrated Intel Centrino Ultimate-N 6300 Wi-Fi adapter at one end, and a home-brew gaming desktop rig with a Broadcom NetXtreme gigabit Ethernet adapter (hardwired to the router) at the other end.
To measure the effectiveness of MU-MIMO as implemented in the EA8500, I ran the same tests with the three Dell laptops paired to three other computers, streaming TCP traffic on all three client/server pairs simultaneously. I tested the three Dells the same way using an Asus RT-AC3200U to represent one of the best SU-MIMO alternatives to MU-MIMO: A tri-band router that operates two independent 802.11ac networks on the 5GHz band and a third independent network on the 2.4GHz band.