Microsoft Cortana on the PC: She's not fully alert in Build 9926 of Windows 10
We go hands on with Cortana in Build 9926 of Windows 10, and find the digital assistant is disappointing compared to what's installed in Windows Phone.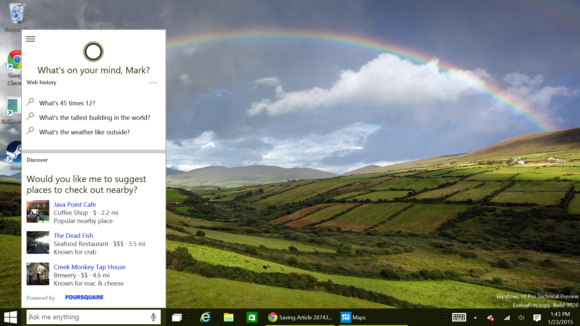 "Cortana? Hey, Cortana? Remind me to..." Damn. She's gone. And that's basically the Cortana experience in Build 9926 of Windows 10. Microsoft's digital assistant has migrated to the desktop, but she's just not as reliable as her Windows Phone iteration.
After Microsoft made Build 9926 available to the public on Friday morning, I downloaded it using my existing Windows 10 preview build. The download was relatively quick, but if you grab it yourself, make sure you have your existing Windows build updated before you install the new build. If you don't, you may receive a "this update failed to install" error.
We already tried out Build 9924 in Redmond, and we'll have a more in-depth hands-on of 9926 a bit later. But for now we want to focus on Cortana, the flagship addition to Windows.
So far, she's a bit flaky.
Initially, Cortana appears just as a search bar in the bottom left of the screen, alongside her circular icon. Tap it, and Cortana will ask you to enable her. (You'll need to begin the process by tapping the search bar, then enabling Cortana. I first tried to turn Microsoft's digital assistant on via the settings menu, but that doesn't work.)
Cortana will want to access your calendar appointments, contacts, and location, among other things--pretty par for the course, especially if you've used Cortana on a Windows Phone. You can also tell Cortana what to call you, including your name, "Master," "Khahleesi," or anything else.
Hello, Cortana? You seem distracted
Once enabled, you can control Cortana via the Windows 10 Settings menu. Make sure you do this, as this is the only way to turn on Cortana's active listening feature.
With that turned on, you can say "Hey Cortana" to activate Microsoft's digital assistant. Note that this feature will eventually arrive on Windows phones as part of a feature that will accompany the Denim update. For now, however, it's pretty much exclusive to the PC.
Unfortunately, Cortana's a busy virtual woman--attracting her attention via spoken commands seems to work only intermittently. If you give Cortana a few moments, saying "Hey Cortana" usually prods her into action. But her attention will wander very quickly, so if you don't say what you want almost immediately, she'll begin "thinking" about your request.
Lost in her thoughts, she won't respond for a few seconds. Alternatively, she'll simply ignore you. My natural instinct was to raise my voice and begin insistently saying "Hey Cortana" over and over again--just as my children to when they want my attention. But that also failed to provoke a response.