Microsoft: Here's why businesses will want Windows 8.1
Security, manageability, flexibility: Microsoft executives outlined several undisclosed features of Windows 8.1 at its TechEd conference on Monday.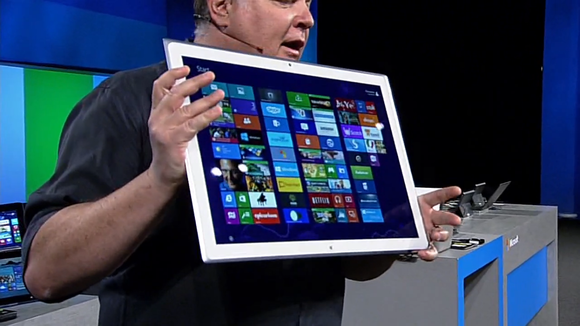 Microsoft said Monday that it will tie Windows more closely to the cloud, a strategy designed to convince its core business customers to adopt the newest version of its operating system.
Specifically, Microsoft demonstrated the ability to add an employee's own devices, such as an iPad, Windows tablet, or Android phone to the corporate network, and download a company's internal Windows apps to a Windows device. More importantly, Microsoft showed off how that device could be only partially wiped if the tablet was lost, only deleting sensitive business data, and not the user's pictures. Executives also showed off enhancements to printing and presentations, and demonstrated how tablets managed by a school, for example, could be locked down to prevent Web browsing while students took a test.
Microsoft executives also confirmed that it would release a public preview of Windows 8.1 on June 26, for Windows 8, Windows RT and Windows Embedded 8.1 Industry. Microsoft previously disclosed several of the new features of Windows 8.1 or "Blue," including a revamped Start menu and a boot-to-Desktop option.
On Monday, Microsoft used its TechEd conference in New Orleans to show off some of the new technical capabilities within Windows 8.1, promising synergy with devices like the new "Haswell"-powered laptops coming out of Computex. On the enterprise side, Microsoft also revealed some of the new server releases that will debut later this year, incluidng Visual Studio and SQL Server.
While Microsoft's Windows 8 is often seen as a consumer OS first, Microsoft's foundation has long been its business customers, who snapped up early licenses to Microsoft's new OS and helped Microsoft report strong Windows adoption through its first quarter or two. (Microsoft's latest TV advertising has begun to emphasize productivity as well.)
Windows 8.1's new enhancements will better tie Windows 8 to the Microsoft's cloud service, Windows Azure, as well as Windows Server — two segments of the company that continue to drive the company's revenue. That's critical, IDC enterprise analyst Matt Eastwood noted over the weekend, because the majority of the world's servers, over 75 percent, run Windows Server.
"This is because of [the] size of [the] SMB installed base," Eastwood said via Twitter, noting later that IDC's own numbers backed Microsoft's claims. "Hence Microsoft cloud needs to be easy. "
Brad Anderson, corporate vice president of Windows Server at Microsoft, said that 1.2 billion "smart devices" — phones, tablets, PCs, and other connected devices — had been added since the last TechEd conference a year ago.
"Employees believe that bring-your-own-devices is a right," Anderson said.
But all those user devices can also pose a huge headache for IT managers.