Microsoft's Surface line-up posts 2nd straight profitable quarter
Surface Pro 3 powers gross margin improvement to between 19 percent and 20 percent.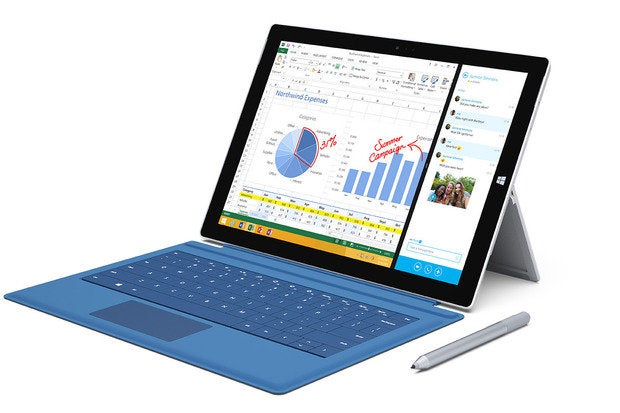 Microsoft yesterday reported a second consecutive quarter of gross profit for its Surface tablet line, and said that revenue broke the $1 billion mark for the first time.
"Strong interest in Surface Pro 3 helped to drive record revenue as well as improved gross margin," said CFO Amy Hood during Monday's earnings call with Wall Street.
For the three months ending Dec. 31, 2014, Microsoft recorded just over $1.1 billion in revenue for the Surface line, an increase of 24% over the same quarter in 2013 but far under the 127% boost seen in the third quarter. The December quarter revenue was a three-month record for the Surface, which consists of the touch-centric Surface 2 and the it's-a-tablet-it's-a-notebook Surface Pro 3 2-in-1.
Using information in Microsoft's Monday filing with the U.S. Securities and Exchange Commission (SEC) and data from earlier quarters, Computerworld calculated the quarter's cost of that revenue at $894 million, leaving a gross profit of $210 million. Cost of revenue is the cost to make and sell a product, but excludes expenses such as advertising and R&D.
The $210 million in gross profit was nearly double the previous quarter's $122 million.
According to Computerworld's estimate, the gross margin was 19%, higher than the 13.4% of the September quarter, but still far under Microsoft's usual software numbers. Calculations by Jan Dawson, chief analyst at Jackdaw Research, tagged Microsoft's gross margin for Q4 after hardware was stripped out at 77%, or more than four times that of the tablets.
In the 10-Q submitted yesterday to the SEC, Microsoft explained the margin increase by saying, "Gross margin benefitted from the mix shift to Surface Pro 3." That wasn't surprising, as Microsoft has made little effort to promote the Surface 2, the less-expensive tablet that runs the now-dead ended Windows RT.
"Surface revenue increased $211 million or 24%, primarily due to Surface Pro 3 units sold, offset in part by a decrease in revenue from other Surface devices sold," Microsoft added.
The Surface Pro 3, which was unveiled in May 2014, comes with much higher prices than the Surface 2 -- between $799 and $1,949, with those prices sans the virtually-mandatory $129 keyboard -- and thus higher margins, especially on the top end.
Dawson also regularly uses Microsoft's SEC filings to come up with his own estimates of the tablets' cost of revenue and margin. For the December quarter, he pegged the cost of revenue at $887 million, the gross profit at $217 million, and the gross margin rate at 20%, up significantly from his extrapolation of just 9% in the September quarter.