Motorola returns to China, touts phone customization
The company is positioning itself as a design-centric brand rather than a cost-effective one.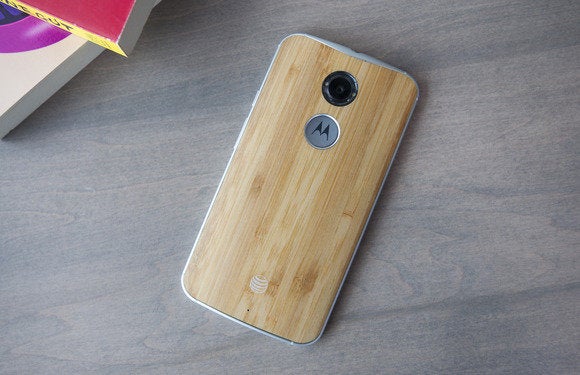 Would you like your smartphone's cover in wood or leather? And how about the device's metal trim?
Smartphone buyers in China are rarely asked those questions. But in a country already crowded with competition, the Motorola Mobility brand is banking on phone customization as one way to separate itself from the pack.
On Monday, Lenovo's newly acquired Motorola subsidiary made its formal return to China, after a two-year hiatus from the country. And the brand is hoping to reclaim its spot in the market, with not only high-quality phones, but by giving Chinese consumers control over how the devices look and feel.
"We're delivering the very best to consumers and giving them the power to choose," said Motorola chief operating officer Rick Osterloh during a company event.
Motorola was once a sizeable player in the country. But after Google bought it in 2012, the handset maker retreated from the market, and underwent significant downsizing, including staff cuts in China.
After buying Motorola Mobility last year from Google for US$2.9 billion, Chinese PC maker Lenovo sought to reintroduce the brand to its home market, but the Chinese market has changed quite a bit in the past two years.
Lenovo itself has become one of the country's biggest smartphone vendors. And so has Xiaomi, a fast-rising Chinese company few may have heard of two years ago, but which is now regularly making headlines.
They're joined by throngs of other Chinese phone brands, all of which are trying to appease local consumers with cutting-edge specs and low prices that have undercut bigger rivals such as Samsung.
"The majority of consumers who used to use Motorola phones would have moved on to other brands," said Tay Xiaohan, an analyst with research firm IDC. "The smartphone market is also now way more competitive in China than it used to be before."
So given all this, how does Motorola expect to compete?
For one, the independent Lenovo subsidiary plans to tap into the resources of its parent company to expand, said Osterloh in an interview. "The supply chain gives us great scale," he explained. "It'll give us better prices and costs, and give us the ability to access new technologies."
But Motorola isn't so worried about the affordability of so many Chinese handsets on the market these days. "I think not every buyer is looking just for price, and so we're appealing to people who are looking for great design," he said.
In addition, the brand will largely focus on higher-end products, whereas Lenovo has generally excelled at building lower-end phones, Osterloh said.
"If you look at our businesses together, you get a really nice complementary set of products," he said. In some ways, Motorola's relationship to Lenovo, will be similar to the Chinese PC maker's use of ThinkPad business brand, which it bought from IBM in 2005, he added.