Need a bridge on Mars? Send a bunch of robots
A Harvard scientist wants to make swarms of robots build structures anywhere without blueprints.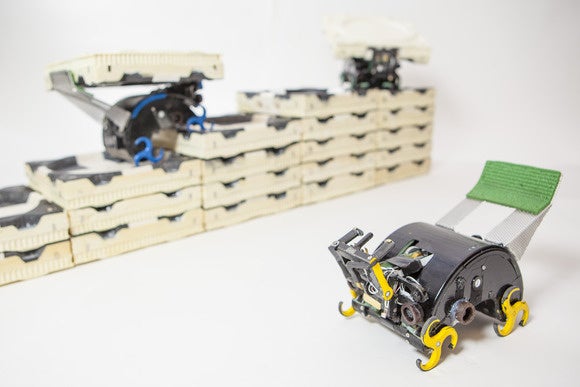 The bridge to the future may be built by robots.
A research team led by a Harvard professor is exploring technologies that would allow swarms of robots to build bridges, towers and other structures in places where human workers can't go. The simple, autonomous robots would take a supply of materials and a basic goal and just keep trying things until the structure was done.
It's the latest project led by Justin Werfel, a senior research scientist at Harvard, who's already figured out how to make insect-like robots build simple staircases and pyramids out of interlocking bricks. But those structures have a preset design, while the new effort leaves the architecture up to the robots.
Werfel's research looks at environments where construction work would be one or all of the "three D's" -- dirty, dangerous and dull. That could mean flood zones where levees need to be reinforced with sandbags, or it could mean Mars, where robots might construct a human habitat before astronauts arrive from Earth. If something needs to be built where humans don't want to do the work, why not automate it?
Some construction tasks are already done by robots, including ones that can spread mortar and lay bricks. (A human has to scrape away the extra cement.) Werfel is studying ways to automate building work without relying on big, smart machines that can carry out complex tasks. Those kinds of assistants are expensive and are hard to replace if they fail. Instead, he's interested in lots of smaller devices that are more expendable and easier to add as a job gets bigger.
The kinds of robots he's working on make their own decisions, so they don't need much programming. For his first big project, Werfel led a team that was inspired by the way termites work.
A large swarm of these insects can build a towering mound with a complex network of tunnels inside even though each termite works on its own, Werfel said. Working from that observation, his team has built systems of autonomous robots that carry only a virtual blueprint for a structure and basic rules for how to react to their surroundings.
For example, the robots know how to recognize one of the specially designed bricks, how to carry it, and which direction they can go in each area of the construction site without colliding with other robots. They also know not to stack bricks too high for another robot to climb them. But other than basic know-how like that, each robot just patrols the site, reacting to what's nearby and taking action wherever the structure's not complete. When the building's done, they'll keep looking until you stop them, Werfel said.