New solar installs beat wind and coal two years in a row
Photovoltaic installations are forecast to reach 8.1GW in 2015, up 59 percent over 2014.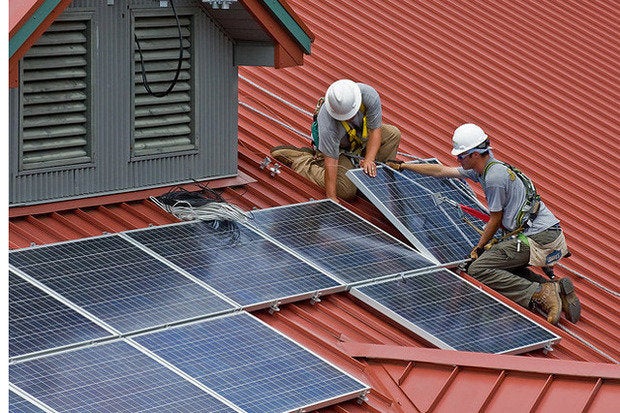 New installations of solar power capacity surpassed those of wind and coal for the second year in a row last year, accounting for 32% of all new electrical capacity, according to a report released today from GTM Research and the Solar Energy Industries Association (SEIA)
The report claims solar photovoltaic (PV) capacity for 2014 reached a record 6.2 megawatts (MW), a 30% year-over year growth rate.
Additionally, 767MW of concentrating solar power (CSP) came on line as well last year. CSP uses mirrors to focus the sun's light onto a boiler to create steam, which then drives a turbine to create electricity.
Solar capacity growth last year represents a 12-fold increase over the amounts being installed just five years earlier in 2009.
Key to solar adoption has been falling costs across market segments and states. While PV module prices remained relatively flat in 2014, whole solar system prices fell precipitously, leading to an average 10% annual decline in system prices, the report claimed.
System costs dropped by 9% to 12% over the course of 2014, depending on the market segment. Costs for solar systems installed in the fourth quarter of 2014 came in as low as $1.40 per watt of direct current (Wdc) and as high as $2.10/Wdc.
Only natural gas beat out solar with 42% of the new generating capacity. Coal-fired power represented 23% and wind generated power only 3% of new energy installations.
By contrast, in 2012, coal represented 41% of new energy capacity and solar only 10%.
PV solar installations are forecast to reach 8.1GW in 2015, up 59% over 2014.
Another first in 2014 -- more than a gigawatt (1 billion watts) of new solar capacity was installed in all three major U.S. market segments: utility, commercial and residential.
The U.S. utility-scale segment broke the GW mark in 2011 and has since grown by nearly 1GW annually. In 2014, 3.9GW of utility-scale photovoltaic (PV) projects came on line with another 14GW of projects currently under contract.
The commercial segment in the U.S. also first installed more than 1GW in 2011, but has not seen the same success as the utility-scale segment. In 2014, the commercial segment installed just over 1GW, down 6% from 2013.
"Many factors have contributed to this trend, ranging from tight economics to difficulty financing small commercial installations," the report said.
GTM Research expects commercial solar -- that deployed by businesses -- will bounce back this year, highlighted by a resurgence in California.
The U.S. residential, or distributed solar power, saw 1.2GW of capacity deployed in 2014 -- the first time that segment surpassed 1GW in a year. More than 186,000 individual residential installations were completed last year.