Office Mobile for iPhone: What's really at stake for Microsoft and Apple?
Putting a cut-down version of Microsoft Office onto the iPhone won't change the world. But if more data passes back and forth between formerly incompatible platforms, what's not to love?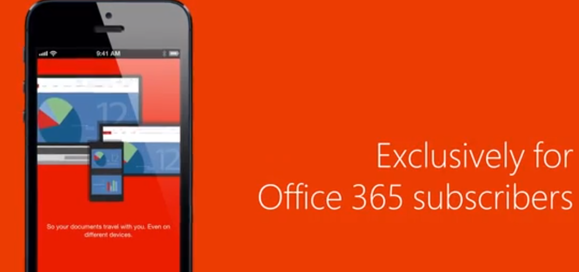 Few people actually open and edit documents on their smartphones, let alone actually create them there. From a short-term perspective, then, placing a version of Microsoft Office on Apple's iPhone shouldn't dramatically change the world.
Microsoft announced Office Mobile for iPhone on Friday morning, ending months of speculation.
The "free" Office Mobile for iPhone app only works with an Office 365 subscription, however, so users will have to pay to edit Office documents, whether it be an Office 365 subscription or Apple's own $9.99 productivity apps, iWork. And, for now, Office Mobile is specifically formatted for the iPhone, so iPad users won't be able to use it.
Office Mobile for iPhone users will only be able to open and edit, not create, documents in Word, Excel, and PowerPoint, although a Microsoft-supplied graphic shows Lync, SharePoint, Yammer, and Skype. Outlook appears to be missing, although the Outlook.com app somewhat fills that hole. A dedicated SkyDrive app is also included, which appears to be the only option for cloud storage. That could be a real sticking point if Microsoft doesn't allow documents to be saved to iCloud or imported from there.
From a broader perspective, however, Office Mobile on the iPhone represents a foothold by Microsoft onto the broader iOS platform, which represents an opportunity to push Microsoft's idea of Office wherever you are, said Wes Miller, an analyst with Directions on Microsoft. In some sense, it's the complement to Microsoft's newfound direction of Windows Everywhere.
"This would be an important announcement for Microsoft to confirm their intent and commitment for Office and other platforms," added Michael Silver, an analyst with Gartner.
Microsoft characterized Office 365 on Mobile as an added benefit for Office 365 subscribers. "Office Mobile is another great example of the value of subscribing to Office 365, and I can guarantee you, there will be lots more to come," Julie White, the general manager of Office, said in a blog post.
What does Apple get out of the deal? That's a more difficult question to answer. If nothing else, Apple users get access to the "official" version of Office. But although Apple's iWork suite for the iPhone and iPad may be getting a bit long in the tooth, according to analysts, there's also no indication that Apple plans to discontinue it, either. In fact, Apple announced a new iWork for iCloud version is due later this year, along with new versions of iWork for the Mac and iOS.
Office Mobile for iPhone requires either an iPhone 4, 4S, and 5 or iPod Touch 5th generation. It also requires iOS 6.1 or later, Apple says.