PARC spin-out launches Kickstarter campaign to disrupt home networking market
PowerCloud Systems is looking to Kickstarter to bring its Skydog home network system with a cloud-managed Wi-Fi router to market.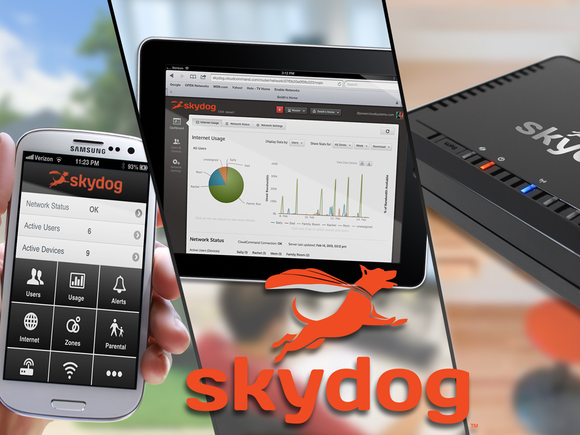 PowerCloud Systems, a company spun out of the famed PARC (Palo Alto Research Center)--birthplace of the etthernet, laser printing, and the graphical user interface--aims to upend the consumer networking market with a new cloud-managed Wi-Fi router. The company launched a Kickstarter campaign on Tuesday to bring its new Skydog Home Network Package (funding through May 14) to market.
But PowerCloud's executives promise this won't be an Ouya-like, pay-us-to-beta-test experience. Skydog is a scaled-down version of a cloud-based networking solution that PowerCloud already sells to small and medium-sized enterprise customers, so they're well beyond the R&D stage. In fact, PowerCloud's president and CEO, Jeff Abramowitz, told me in a meeting last week that the system has been in beta testers' hands since last November.
"We already have a robust Wi-Fi solution for the business market," Abramowitz, "our aim is to provide the same visibility and control for home networks that we've developed for the enterprise market. When we researched the consumer networking market, we found that people are concerned about what their kids are doing online, first and foremost. They also want high-quality media streaming, and they want to be able to troubleshoot their own networks."
Parental controls are the typical answer for controlling what kids can--and can't--do online, and quality of service (QoS) is the conventional means of ensuring solid media-streaming experiences. But those solutions are rather blunt instruments because they reside in the router itself and impact every device connected to the router. If you want to prevent your children from visiting certain sites because you don't think they're age appropriate, for instance, no one else on the network can visit them, either. And if your QoS settings throttle downloads to preserve bandwidth for video streams, you're going to be frustrated the next time you're working at home and need to download a very large file.
With the Skydog system, once you've registered your home network in the cloud, you can not only divide your network into three distinct zones (home office, media room, and kitchen, for instance), you can also define different policies for each zone and for each user. So you can establish a rule that download traffic is always throttled for clients in the home theater zone, but never in the home office zone. The service can also shape traffic so that if one zone isn't being used at all, its bandwidth can be made available to a client in another zone that needs it.
Parental controls
I'm typically not a big fan of parental controls, both because a determined teenager can usually outwit them and because I don't like the notion of spying. But Skydog has the potential to win me over. The service lets you establish time limits for each day of the week as to how long a user can be on a specified website--Facebook or YouTube, for instance--and it will send you as the administrator a notification when that limit is exceeded. And Skydog can monitor user activity no matter which device they're accessing the Internet with, be it a computer, tablet, or smartphone. The service can also prevent that user from visiting the site until their next quota becomes available. Since you can establish different rules for each user, parents remain free to use the Web however they'd like.