PARC spin-out launches Kickstarter campaign to disrupt home networking market
PowerCloud Systems is looking to Kickstarter to bring its Skydog home network system with a cloud-managed Wi-Fi router to market.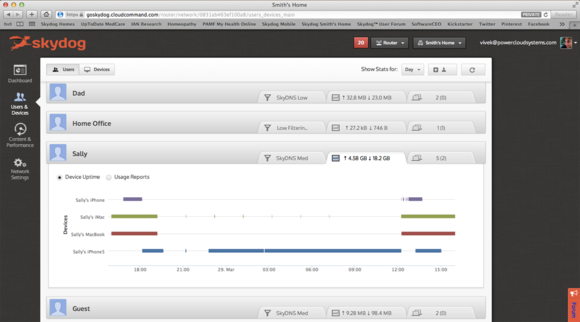 Skydog can monitor each user's online time on every device they use to connect to the Internet.
You can also manage multiple home networks from the same user interface, which will be a boon to those of us who want to help our less tech-savvy parents get online. Once the router's serial number is registered with the service, you can ship it to someone else. The first time they plug it in and connect it to the Internet, it will automatically download all the settings and policies you've assigned it. PowerCloud has developed an HTML 5-based user interface for mobile devices, so you can manage the router from a smartphone, tablet, or computer.
The hardware
Skydog's hardware element consists of a dual-band 802.11n router with a 2-by-2 antenna array (to support a maximum link rate of 300 mbps on both the 2.4- and 5GHz frequency bands) and a five-port gigabit switch. The switch can also be managed, including assigning ports to specific zones. Why not an 802.11ac router, I asked? "When we were in development," said PowerCloud System's VP of product marketing, Vivek Pathela, "we didn't think 802.11ac was the best choice for our rollout." Being a draft standard, it was decided the technology wasn't sufficiently stable. "But there will be an AC solution down the road," said Abramowitz.
That's assuming the Skydog project gets funded, of course. "Early bird" Kickstarter backers who pledge $79 will receive a Skydog home network package in May. Later backers can pledge $99 for one Skydog unit or $179 for two units from PowerCloud's second production run.
Router manufacturers have so far had little success with cloud-based management solutions. Cisco's ham-handed approach to user privacy famously blew up in that company's face last year, a lesson that PowerCloud executives have duly noted. "Data will not be collected for the company's use," Abramowitz said. "We will store user data in the cloud, but this will be used to analyze data for the customer. We will have a very strict privacy policy."
"Cisco offered a lot of discrete apps" for its Smart Wi-Fi product line, said Pathela. "Consumers don't want an app for this and an app for that. They want a complete solution, and that's what we will offer. We believe Skydog appeals to users keen to see innovation taking place beyond the specs of the router. With so many devices and sites being accessed at home, we find both early adopters and families valuing greater visibility and control of their connected home experience."
Pricing Skydog at less than $100 is a wise move on PowerCloud's part. The company is also smart to resist the temptation to squeeze a recurring revenue stream from the product by charging an annual subscription fee. Skydog's cloud-management features are very powerful, but the router hardware itself is not state of the art.