Peq review: A robust, DIY connected-home system
The Peq system provides a painless way to monitor conditions in your home, from leaking water to open doors, and to control lights, locks, and other features.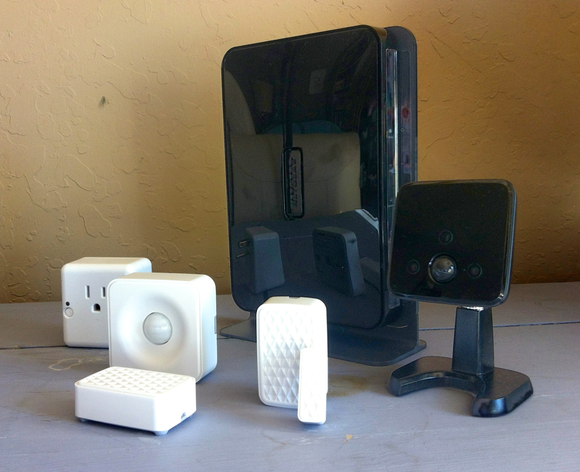 Peq (pronounced "peek") is a robust connected-home system from Smart Home Ventures that includes of a variety of sensors, lighting controls, security cameras, and other components that connect to a wireless central hub manufactured by Netgear. You monitor and control the system using a web browser or a free app on your smartphone or tablet of choice.
You can acquire a Peq system by purchasing $120 starter kit that includes the hub and one door/window sensor, or one of the pricier kit that include more components (the $490 House & Home kit includes the hub, a thermostat, and five sensors: two door/window, two motion, and one water. You can expand the system with additional sensors and components at any time. The Peq system will also work with a of range third-party devices, including smart deadbolts from Yale and Kwikset, the Nest Learning Thermostat, and Philips' Hue LED light bulbs.
For this review, Smart Home Ventures sent the starter kit (the hub and one door/windows sensor that's priced $120) plus one night-vision security camera ($130), one smart plug ($55), one motion sensor ($45), one water sensor ($50), and a thermostat ($130). The total cost of this system would be $530, but Smart Home offers various discounts when you buy multiple components at the same time.
You gotta pay to play
In addition to the purchase price of the hardware, you'll also need to sign up for a $10 per month service plan. In addition to ongoing product support (7AM to 10PM Eastern time) and firmware updates, the service plan includes cloud storage for up to 50 videos and 50 photos per day for up to 30 days. Unlike the Lowes' Iris system, this subscription fee is not optional (although it could be argued that the Iris subscription fee isn't optional either, if you really want that system to be effective).
As with the Iris system, the Peq's service plan does not include professional monitoring. So if a motion or door/window sensor is triggered when you think the house should be empty, you're on your own when it comes to summoning an emergency response. Service plans that do offer professional monitoring, of course, tend to cost much more and typically tie you into a long-term contract with onerous early-termination fees. On the other hand, they also come with professional installation.
AT&T's Digital Life offerings, for instance, start with a Smart Security package that costs $150 for the equipment plus a monthly service fee of $40. Adding connected-home features will rapidly increase that subscription fee. Packages from service providers such as ADT, Comcast, and Vivint are similarly pricey, but you don't need to worry about setting up the system yourself.