Samsung SmartThings Home Monitoring Kit review: A solid connected-home foundation
A second-generation hub is the key to this platform's appeal.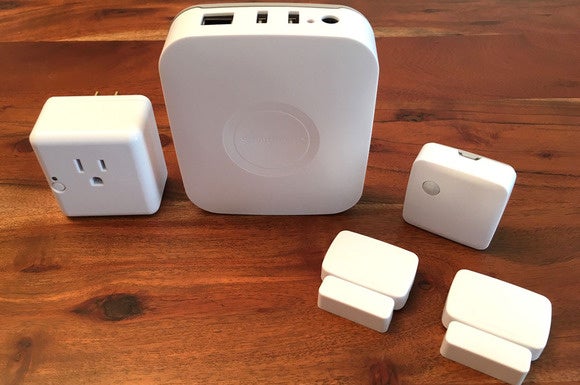 The Internet of Things is everywhere, reaching even the interior of your fridge. Yet as the buzz approaches fever pitch, a sizable percentage of the connected tech available today remains isolated in siloes. One sensor can tell me if my garage door is open or closed, but it can't turn on the smart light bulbs inside my house when I open the door at night. My Bose audio system can play music in every room in my house, but I need to launch a different app when I want to dim the lights to hear mood music with my romantic dinner. SmartThings, acquired by Samsung in 2014, promises to break down those silos and integrate all the smart devices in my connected home into a single mobile app. And it comes pretty close to delivering on that promise.
A small hardware hub at the core of the SmartThings experience bridges multiple network protocols and acts as the local command center. While the second-generation Hub can be purchased on its own for $99, most people will get started with the $249 SmartThings Home Monitoring Kit, reviewed here.
The SmartThing Hub itself is an inoffensive, compact, white plastic block that's not much larger than a Roku. Its diminutive size and general good looks are notable compared to the much larger and less-attractive Staples Connect and Wink hubs that it competes with. Unlike those devices, however, the SmartThings Hub must be hardwired to your router (the others connect over Wi-Fi).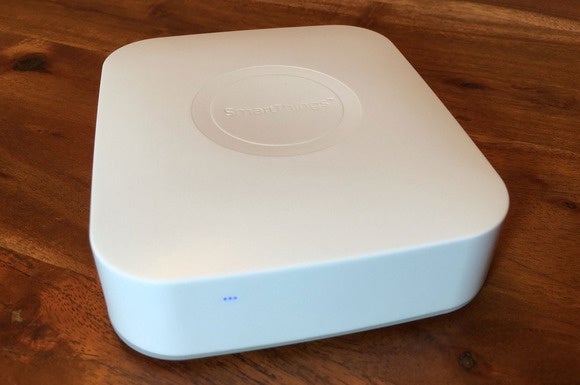 This petite, second-generation hub, which houses Z-Wave and ZigBee radios, powers the SmartThings connected-home platform. Credit: Dave Zatz
In addition to the SmartThings Hub, the Home Monitoring Kit bundles several ZigBee components, collectively known as Things: two door/window sensors, a motion detector, and a plug-in lamp/small-appliance module. In addition to the kit, SmartThings also sent a leak detector and a wireless siren for this review. They also sent a security camera that we will review later.
The company indicates its updated line of ZigBee sensors are one-third the size of its previous models, and I found the door/window sensors to be extremely innocuous once installed. The two-piece units can be mounted to doors, windows, and even garage doors using the included double-sided tape or by screwing the corresponding backplate into your trim or wall. The motion sensor is similarly slim, and each of them is powered by a CR2450 coin-cell battery—no old-school wiring here. The lamp/small-appliance plug-in module is slightly bulkier and of course depends on AC power, but it's also more likely to be placed out of sight.