Samsung SmartThings Home Monitoring Kit review: A solid connected-home foundation
A second-generation hub is the key to this platform's appeal.
In addition to informing you when motion is detected and if your door or window is open or closed, the sensors also monitor the temperature in their proximity and can trigger the small-appliance module to turn on a window air-conditioning unit to cool a hot house, or to fire up a space heater if a room gets too cold.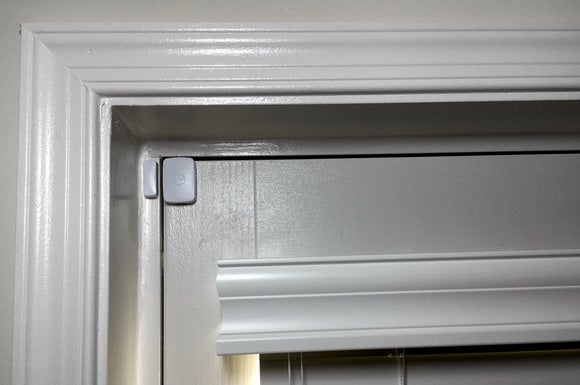 The SmartThings door/window sensors will also monitor and report the ambient temperature. They can trigger a SmartThings lamp/small-appliance module to turn on a fan or small air conditioner when the room gets hot, or a space heater when it's cold. Credit: Dave Zatz
Home Monitoring Kit
This starter kit does just that: It gets you started. Unless you live in a very small house, you'll want to add other components to expand the capabilities of your system and to expand control to additional rooms in your home. There are several other SmartThings products to choose from, including a leak sensor, an arrival sensor that sends notifications when the bearer arrives home, a humidity sensor, and a security camera.
You'll also find a number of compatible third-party devices in the SmartThings store, including smart entry locks from Schlage and Kwikset, in-wall ZigBee and Z-Wave light switches and dimmers from GE, a smoke and carbon-monoxide detector from First Alert, emergency sirens and strobes, remote controls, and more.
A SmartThings system can also incorporate other classes of devices, including third-party smart thermostats and smart light bulbs, Amazon's Echo digital voice assistant, Belkin's WeMo connected-home products, and even Bose SoundTouch and Sonos multiroom audio systems. While you won't find these products for sale in the SmartThings store, the company does provide online tutorials for incorporating them into a SmartThings system.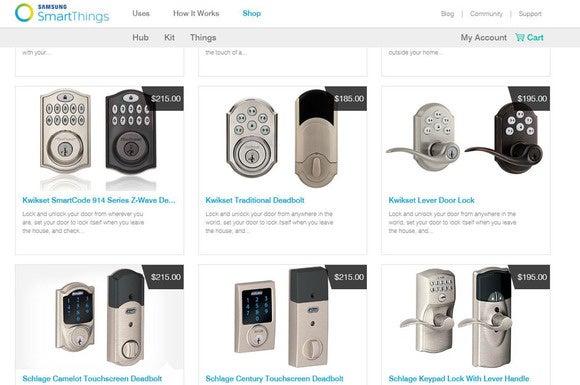 You can incorporate a variety of smart locks into your SmartThings system, including numerous models from Kwikset and Schlage.
As complete as that ecosystem sounds, holes remain. In some cases, such as with Chamberlain's MyQ garage-door controller, you'll need to rely on fellow users posting helpful tips in the SmartThings' community forums to figure out workarounds. In other cases, you might just be out of luck, as I discovered when I tried to enroll my existing Lutron Caseta Wireless lighting controls into the SmartThings system (Lutron's Pico remotes are super handy).
Setting up the hardware
Installing the SmartThings app on your Android, iOS, or Windows smartphone, or Android or iOS tablet is the first step to setting up a SmartThings system. (Some other connected-home systems, including the Staples Connect, have robust web-based user interfaces so you can program them from a Mac or PC as well.)
Previous Page 1 2 3 4 5 Next Page