Separate the sound from the fury: 5 in-ear headphones for your smartphone
We found lots of things to like, and some things to dislike in popular new in-ear headphones from Beats, Bose, Bowers & Wilkins, Harman Kardon and Shure.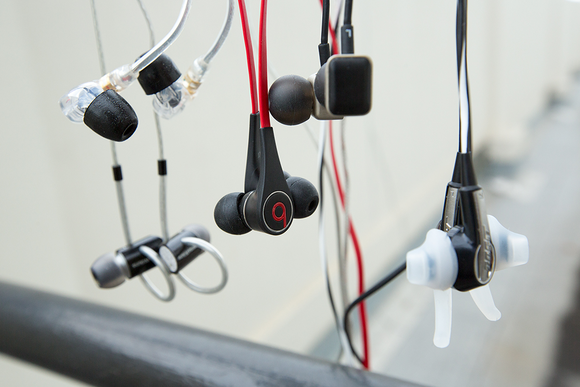 I have a love/hate relationship with in-ear headphones. I like the portability and light weight of in-ears, especially when running or working out at the gym. I even like the sound they produce close to my eardrum and the way they block out the sounds of the outside world--in certain situations.
But there are trade-offs. I don't like the feeling of having things jammed into my ear canals because my ears physically tense up, expecting a loud sound too close to my eardrum. Not to mention the seemingly unavoidable sound of the cord moving around, vibrating up into my ear.
The five earphones I've tried out recently--relatively new models from Bowers & Wilkins, Shure, Bose, Beats and Harmon Kardon--balance those pros and cons in their own way. And I found something to like in all of them.
Shure SE215 ($100)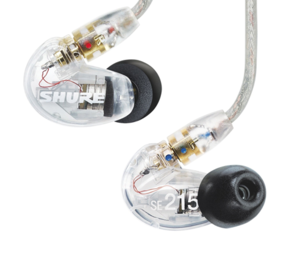 Shure has years of experience making in-ear headphones, reacting to user experiences with past products. That expertise shines through in the SE215 and some user-friendly touches.
Take the cables--the last three inches of the SE215's cables are wrapped in a bendable plastic covering that can be molded around the top of your ear. The cables also detach from the ear pieces to prevent the earphones from ever being yanked out of your ears and rotate at the point of the connection with the ear pieces, which helps prevent cord movement from having any effect on the fit of the earphones inside your ears.
The whole construction of the phones seems heavy-duty. The cables are thick clear plastic, inside which you can see the braided wires. The SE215s come with three different sizes of foam tips that mold to the shape of your ear canal.
I was wowed by these earphones, particularly the expansiveness of the sound. Even though the sound happens in a very small space between the small driver and your eardrum, it seems wide and spacious sound.
At reasonable volume level, I found these earphones to be accurate--that is, they are not tuned to more monstrous bass as many headphones are. I got the impression that the designers were more interested in producing a sound that's true to the intent of the people who mixed and mastered the recording.
So the bass was large and loud where it was supposed to be. The SE215s deliver equally accurate mids and highs: The mids were punchy yet restrained, and the highs crisp. The mids and highs have a mellow quality that seems to respect the sensitivity of one's eardrums to sounds in in those frequency ranges.