Separate the sound from the fury: 5 in-ear headphones for your smartphone
We found lots of things to like, and some things to dislike in popular new in-ear headphones from Beats, Bose, Bowers & Wilkins, Harman Kardon and Shure.
Harman Kardon AE ($150)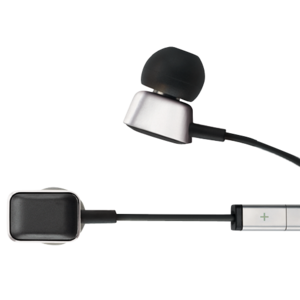 The Harman Kardon AE in-ear headphones follow the stainless steel and black aesthetic vibe of the iPhone.
They look like little rounded aluminum boxes hanging out of the ears, and they aren't light. The metal construction gives them a sturdy, substantial feel, though it isn't heavy enough to be uncomfortable during use.
The only part of the AE that isn't metal is the rubber piece that fits inside the ear. The headphones come with three sets of these pieces, including a pair of foam tips. A plastic, three-button controller on the cord controls the volume, pauses the music, and acts as a mic for calls.
The high price tag of the AE sets high expectations for sound performance. The AE uses 9mm drivers, which pump out plenty of bass. As in most new headphones, you can tell that heavy bass output was a key design consideration.
On the Steely Dan record I used for testing, the AE reproduced the bass in a tight, defined way. But the bass on that stuff lives in the upper end of the low frequency range. When I listened to some Aesop Rock, it became clear that really deep bass starts to become messy and outsized as the volume goes up. When the bass isn't out of control, the mids can sound fairly punchy and the highs have a nice smooth gloss about them.
For people who are attracted to the iPhone-inspired design of these headphones, the audio performance will not disappoint for most types of music. If sound quality is the most important consideration, you can probably get more bang for your 150 bucks.
Previous Page 1 2 3 4