Sleipnir 4 has a different take on Web browsers
The decidedly different Sleipnir 4 is a breath of fresh air in the world of Web browsers.
Smarter searching soothes the bookmark blues
Sleipnir's search box is also impressive, packing maximum usefulness into a clear, easy-to-operate design.
Once you type in a search, pressing Return gives you results from the search engine of your choice (which you can specify in the Preferences). Hit the tab key, and you can look up that same term on Amazon, eBay, Wikipedia, or any other site you wish to add. (You'll need to know how those sites handle their search strings, but it's not too hard to figure out.)
Floating below the main search window, you'll also see a selection of potential matching pages from your history or bookmarks. This fast, easy way to jump to your favorite sites helps to compensate for Sleipnir's otherwise frustrating handling of bookmarks.
To keep its top navigation lean and clean, Sleipnir doesn't display the bookmarks bar unless you open a new blank tab. (By default, Sleipnir populates those empty pages with its guesses about where you might like to go, based on pages you've visited recently. It's kind of charming, but not really useful.) If you want to directly open a bookmark or a folder full of bookmarks without opening a new tab or using the search bar, you have to go to the Bookmarks menu at the top of the screen. That didn't ruin my experience, but was occasionally frustrating.
Touch-and-go gesture controls
Sleipnir aims to make browsing as simple as possible, so its creators have built in a set of custom gesture controls for basic navigation. There's no easy up-front tutorial to learn them, unfortunately. You have to hunt for them in the Preferences, where they're all clearly diagrammed.
The gestures work great in theory, but only so-so in practice. I liked being able to close a tab with an L-shaped swipe, reopen closed tabs with a squarish U, or reload a page by drawing a circle. But the gestures worked better on some pages than others. In some cases, they refused to work at all. I had the best luck when drawing gestures slowly and deliberately.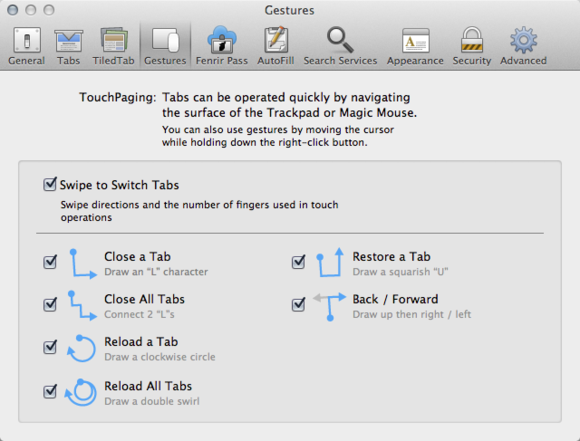 Gestures: Sleipnir supports gestures, if you use a Magic Mouse or Magic Trackpad.
Sleipnir also assigns the two-finger horizontal swipe--which every other browser uses to go forward and back--to navigating through its list of open tabs instead. To go forward or back in your browsing history, you swipe up, and then to the left or right. This fits with Sleipnir's tab-centric design, but still takes a lot of getting used to. I would've appreciated an option in Preferences to switch how these gestures worked.
Disappointing performance
Gestures weren't the only place where Sleipnir's ambitions fell short of its execution. Though it uses the same WebKit engine as Safari, it had trouble properly rendering a few fairly simple pages properly. It also seems bad at multitasking, becoming moderately unresponsive whenever you're doing anything processor-intensive in one of your tabs.