Some users will 'kick and scream' at paying with slower chip cards
Confusion expected as consumers adapt to using smart cards and new point-of-sale terminals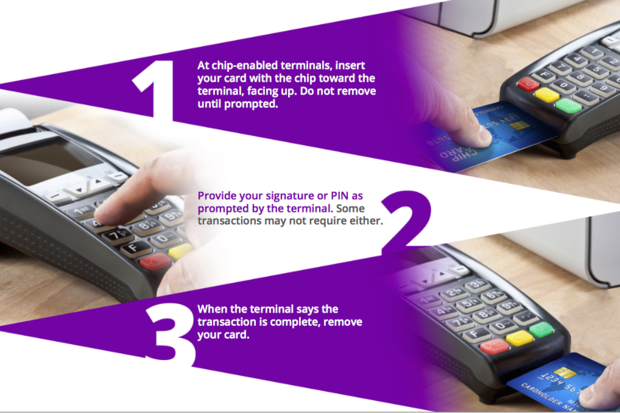 Banks, merchants and others describe how to use a smart chip card on gochipcard.com.
Major U.S. banks have been rolling out new, secure smart chip debit and credit cards for months, but the real end-user impact hasn't yet been felt.
Some experts say typical consumers will get confused and may even balk when first attempting to use these new "PIN and chip" smart cards, where a PIN is a personal identification number, and a chip is a computer chip that can be read by a new point-of-sale terminal. As a result, customers may choose to rely on the less-secure magnetic stripe also on the new cards for in-store purchases.
Or, customers could even turn to mobile wallet alternatives, like Apple Pay or the coming Android Pay, and skip the credit and debit card experience altogether.
"PIN and chip is going to be confusing. Adoption is going to be painful in the U.S. because people are so used to magnetic stripe," said Bob Graham, senior vice president of banking and financial service at Virtusa, a global IT services company, in an interview.
Smart cards are inherently more secure than magnetic stripe cards. There are already 3.4 billion chip cards in circulation that are widely used in 80 countries outside the U.S., according to the EMV Connection website. EMV stands for Europay, MasterCard and Visa, the original companies that developed the chip cards.
Smart cards are embedded with a computer chip that is read by a new-generation payment terminal. As with older cards, payment information is transmitted electronically over a payment network to confirm a customer has available credit or funds in a debit account.
There are at least a few reasons that consumers might get confused or give up using the smart card, experts said. First, it takes longer by at least a couple of seconds to make a payment with a smart card rather than a magnetic stripe card. Also, the payment confirmation will vary by the type of payment terminal or a store's required payment procedure, which could cause confusion.
Some new terminals that are designed to handle smart cards will emit a beep that a transaction is complete, while others will flash a light or a text message on a screen that signals "approved."
In some other cases, a store clerk will verbally confirm that the payment is complete, which will depend on whether the sales clerk has received proper training.
To further complicate matters, in some locations, smart cards will also work with new terminals that support near-field communication (NFC) technology. With these terminals, the smart card won't have to be inserted into a slot but can tap or be brought close to the terminal for a "contactless" payment. That contactless approach is what's used with NFC-ready smartphones, like Apple's iPhone and many Android phones.