Targus Universal USB 3.0 DV Docking Station: Turn any laptop or Win 8 tablet into a desktop replacement
Add SIX USB ports, drive two additional displays, gain gigabit ethernet, and more
If you've fallen hard for a superthin notebook, you're probably running into the same issues I am. Mine has a beautiful display and great battery life, but it has just two USB ports—only one of which is USB 3.0—and it doesn't have a hardwired ethernet port. The transceiver for my wireless mouse and keyboard occupies one port, and a USB-to-ethernet dongle consumes the other. Unplug the dongle so I can connect a hard drive, and I lose my network connection. Unplug the transceiver and I lose my external mouse and keyboard.
If you're getting by with just a tablet, you're probably having even more connectivity issues than I am, especially when it comes to driving an external display. So I decided to check out the $220 Targus Universal USB 3.0 DV Docking Station with Power. If Targus wants it back, it'll have to pry it out of my cold, dead hands. This little device has become as essential to my day-to-day productivity as my coffee mug.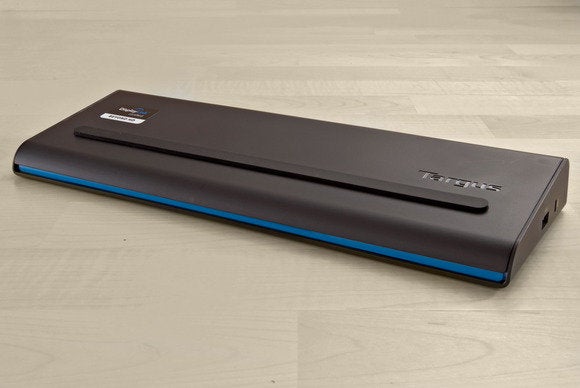 ROBERT CARDIN. Open the top of the Targus dock to find the right power tip for your notebook. The rubber strip helps to prevent your computer from sliding off. (Click to zoom.)
I set the back of the computer on top of the dock, and its wedge shape lifts the computer off the surface of my desk, increasing airflow around it and keeping it cooler. A rubber strip running across the 10.63-inch width of the dock prevents the computer from sliding off. Targus uses an in-line power brick, so there's no wall wart to hog space on your outlet strip.
Ports ahoy!
The dock takes up my notebook's sole USB 3.0 port, but it provides two more plus four USB 2.0 ports (I increased that number to seven available USB 2.0 ports by connecting one of them to the four-port USB hub in my monitor). I tested the USB 3.0 port's performance by transferring a 10GB collection of files and folders as well as a single 10GB file from a Toshiba Canvio Slim II portable USB 3.0 hard drive to my notebook's SSD (a read test).
I then repeated these steps in the other direction, copying them from the notebook's SSD to the portable hard drive (a write test). With two 24-inch displays also attached to the dock, the read tests occurred at 93.9 and 112.5MB/s, and the write tests were accomplished at 89.0 and 62.8MB/s. And I saw no decrease in performance when I added a second USB 3.0 hard drive and performed the same tests with it at the same time.
Two of the dock's USB ports provide extra power to charge battery-powered devices, whether the computer is docked or not. Other ports on the dock include gigabit ethernet (solving my USB-to-ethernet dongle problem), and audio in and out (so I don't have to unplug my headphones every time I take my laptop into a meeting).