The best PCs of 2015 will be superlight, pen-friendly and Broadwell-based
The Consumer Electronics Show is great for one thing: spotting PC trends. We think these three will hold through the year.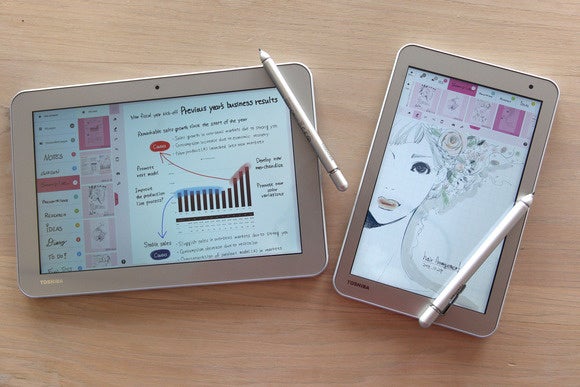 The Consumer Electronics Show is great for one thing: spotting PC technology trends. Out of hundreds of systems we saw, three clear trend lines emerged that we think will hold through the year.
Ultralight and ultrathin laptops
Smaller and thinner were the 'it' attributes at CES. Samsung was first out of the gate with news of its two-pound ATIV Book 9. I hefted it at an event and came away impressed, but clearly it was too heavy, right? Who am I--Arnold Schwarzenegger?
Lenovo thinks it has the answer in its even lighter LaVie Z HZ550. Built as part of a joint partnership with NEC, the LaVie Z HZ550 weighs just 1.72 pounds, which, Lenovo claims makes it the lightest laptop with a 13.3-inch screen.

GORDON MAH UNG Lenovo's upcoming LaVie Z HZ550 weighs an astounding 1.72 pounds.
To shave ounces, Lenovo used an indium gallium zinc oxide (IGZO) panel. IGZO has long been known to be more power-efficient than a traditional IPS screen. A move to IGZO let Lenovo trim the battery size.
A forged chassis also helped: While a typical laptop might have a keyboard tray that's separate from the laptop body, the LaVie uses a one-piece tray.
The LaVie on demo didn't have the final keyboard, however. Its Japanese placeholder felt a little too compressed for our tastes, but Lenovo has until the May ship date to improve upon it.

GORDON MAH UNG. The slight perspective shift lies a little here but the XPS 13 Gen 3 on top of the XPS 13 Gen 1 shows you how much size Dell was able to shave off of the new unit.
Dell's entry into the Twiggy laptop race is its XPS 13, which, the company maintains, is the smallest (but not the lightest) 13-inch laptop, jamming a 13.3-inch screen into the same real estate an 11-inch screen would take up.
I tried the XPS 13 at CES and even compared it to the first-generation XPS 13. It's no lie: That bezel is thin, and this laptop is small. But its 3.3-pound weight is practically plus-sized in this company. Dell prioritized battery life, and the XPS 13 offers an incredible 15 hours of runtime. I'd expect other notebook vendors are gunning to be on the record books as the "lightest" and the "thinnest."

GORDON MAH UNG. Toshiba's new Encore 2 Write tablets are probably the lowest cost tablets that give you Wacom-based pen technology.