The best way to watch media on the new Apple TV: iTunes Home Sharing vs. Plex
Why you should use Plex instead of the Apple TV's built-in software.
Plex can play .mp4 files directly, but can also transcode other formats, such as AVI, MKV, and lots of others. So if you've ripped your DVDs in formats other than .mp4, you won't need to convert them to add them to your iTunes library. This makes Plex a lot more flexible for video.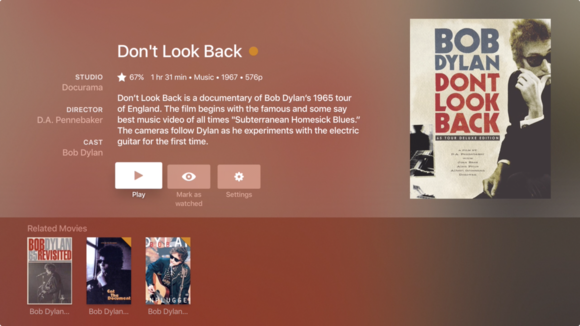 Here's Plex displaying a Bob Dylan documentary that I ripped.
Plex also pulls down metadata for movies and TV shows, but for more obscure films it either doesn't find any, or gets the wrong information.
Plex cannot play purchased videos from the iTunes Store, those which are protected with DRM (digital rights management). Only the Apple TV can play these, either streamed from your library, or from the iTunes Store. Unfortunately, Plex displays these videos if you select the Movies or TV Shows folders in your iTunes Media folder, which can be annoying if you forget which movies you've purchased from the iTunes Store, and which you've ripped. So if you use Plex for videos, it's best to separate the ripped videos from the iTunes purchases.
Playing music
As expected, iTunes Home Sharing lets the Apple TV access your iTunes library. You can also access Apple Music, if you're a subscriber, and your iCloud Music Library, if you use this with Apple Music and/or iTunes Match.
However, this solution only lets you play files in AAC, MP3, Apple Lossless, AIFF, and WAV formats. Many people use FLAC files, and, while you can convert these to Apple Lossless format to add to your iTunes library, you cannot play them natively.
Plex, as expected, lets you play FLAC files, but also Ogg Vorbis and others (but it can't play protected AAC files from the iTunes Store). It transcodes files from formats that can't play natively on the Apple TV and plays the others directly. Unfortunately, Plex transcodes lossless FLAC files to 256 kbps AAC files when sending them to the Apple TV.
iTunes Home Sharing lets you play all the playlists you've created in iTunes, or on your iOS device (if you use iCloud Music Library), and Plex lets you import your iTunes playlists. But if you make new playlists in Plex, they don't sync back to iTunes.
One of Plex's features is that it pulls down artist pictures, biographies, and more from last.fm. This works well, when it works. When it doesn't, it lists, for example, John Mellencamp 26 times, and for Arnold Schönberg shows a photo and biography of Glenn Gould. For some artists, Plex displays a bright red last.fm graphic telling me to "Use correct artist name in your files' ID3 tags." Let's just say that, for managing a music library, Plex isn't really ideal, at least not if you've been maintaining your library in iTunes.