The best way to watch media on the new Apple TV: iTunes Home Sharing vs. Plex
Why you should use Plex instead of the Apple TV's built-in software.
Plex does have an interesting feature. If you buy a Plex Pass, you can access music videos from Vevo when you view an artist's page, or an album or song list. There aren't that many videos yet, but it's still a nice addition.
Home Sharing on other devices
Apple's Home Sharing obviously only works on Apple devices. You can share to an Apple TV, you can share music to iTunes running on another Mac or Windows PC, and you can (theoretically) use Home Sharing on iOS devices. But trying to load a library on an iOS device is execrable, if you have a library of any size. I've never succeeded in loading my 70,000-track library on an iOS device.
Plex is a lot more flexible. Not only can you install the Plex app on a whole range of devices—Chromecast, Amazon Fire TV, Xbox, PlayStation, Roku, and many smart TVs—you can also use it on portable devices, such as an iPhone, iPad, or Android devices (the Plex app requires a Plex Pass or an in-app purchase). Loading a library is quick and you can play videos or music from the computer or NAS running Plex server on several devices around your home. If you start watching a movie on the Apple TV, for example, and want to watch the rest on an iPad in bed, Plex remembers your position, so you can pick up where you left off.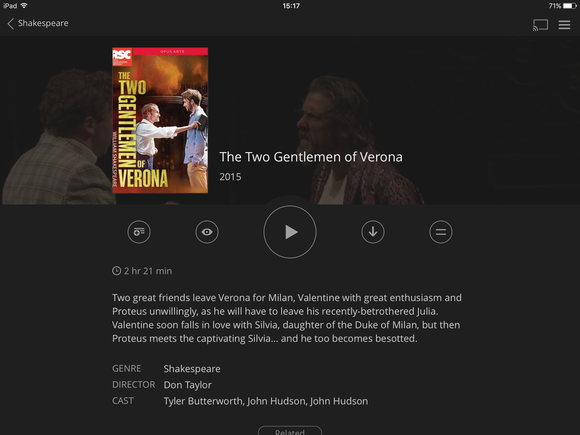 Viewing a film in the Plex app on my iPad.
But Plex goes even further, reaching beyond your home network. Are you in a hotel in a different country, wanting to watch a movie that's on your Mac? No problem (again, with a Plex Pass). Your iPad can pull down the video from your Mac, no matter where you are. This feature alone makes using Plex worthwhile for many people who travel a lot. You can also download content to your device either before you leave home or when you're on the road, if you don't have much bandwidth or are worried about data caps.
The verdict
Both iTunes Home Sharing and Plex offer interesting and useful features. I've decided to stick with iTunes for my music, and for those movies and TV shows that I've bought from the iTunes Store. For these videos, there's no alternative.
But I've moved all my other videos from my iTunes library to a Plex folder and I now view them on my Apple TV in Plex. You can create any number of folders for your videos. I have one for movies, one for TV shows, another for my Shakespeare collection (filmed plays and movies), and another for my concert films. While this solution means I have to remember which movies came from iTunes and which didn't, it's not that complicated. And Plex is much better for organizing and playing videos.
Previous Page 1 2 3