The state of VR: Where Oculus Rift, HTC Vive, Gear VR, and others stand right now
Let the countdown begin: We are roughly T-minus one month from virtual reality.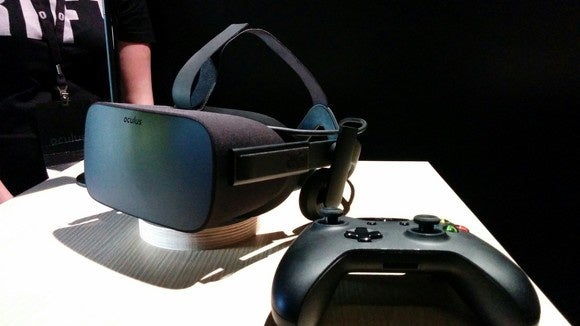 The new consumer version of Oculus Rift is due to ship in early 2016. Credit: Hayden Dingman
However, consumers can opt to purchase Oculus Touch—two position-tracked controllers (and a second sensor) that effectively let you use your hands in virtual reality, thanks to multiple palm-grip buttons.
Oculus used to be adamant that VR was a sitting-down experience, but in the last year has relaxed that definition somewhat. Mitchell now says "My personal opinion: Most people are going to want to play VR games for long periods of time, and they're going to want to chill out and sit down. There are going to be a set of awesome standing experiences that'll be fun. People are going to want to play those too, I'm sure."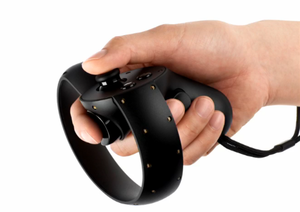 A close-up of the Oculus Touch, which may be altered before its official release.
"Okay, cool. When can I buy it, and for how much?" We don't know. Not really. Oculus has only given a launch window—the first quarter of 2016. And that's just for the headset. The Oculus Touch controllers are set for an even more nebulous "first half of 2016."
As for price, Oculus has previously said it wants to stay somewhere in the $350 to $500 range for the headset. The goal is to sell it as cheaply as component costs and Facebook's endless dollars can afford in order to spur adoption. The controllers are still a mystery, though if we go by standard Xbox controller pricing I'd guess it tacks on at least $150.
You'll also need a gaming PC, of course. The recommended specs for the Oculus Rift include a GTX 970 or Radeon R9 290 graphics card, 8GB of RAM, and an Intel i5-4590 or greater. "Oculus Ready" certified PCs will also be available if you don't feel like building your own system.
HTC Vive
Then there's the usurper, the HTC Vive, a.k.a. SteamVR (pictured in use above). Yes, despite being built by HTC, the Vive is more commonly associated with Half-Life/Portal/Team Fortress 2/Steam developer Valve. And it's a bit of a convoluted story.
At one point, Valve and Oculus were actually working together. Valve had been researching VR internally, and it'd built a legendary VR room at its studio in Bellevue, WA. Developers had tried it out and said it was a huge step above what Oculus was showing at the time.
But (supposedly) having no interest in creating its own VR headset, Valve and Oculus came to an agreement whereby Valve supplied Oculus with R&D—an agreement that became less and less important as more of Valve's VR team left for Oculus. Then Facebook bought Oculus and the whole "sharing R&D" agreement seemed jeopardized.
Previous Page 1 2 3 4 5 6 7 Next Page