The state of VR: Where Oculus Rift, HTC Vive, Gear VR, and others stand right now
Let the countdown begin: We are roughly T-minus one month from virtual reality.
That's assuming you own one of Samsung's phones though—presumably for day-to-day cell phone use. If you don't, the price immediately jumps to $700 or more, because you'll need to buy one of the company's high-end phones off contract and buy Gear VR. That's still cheaper than rigging a gaming PC, but it's not quite the bargain Samsung makes it out to be with that $100 price tag.
Oh, and one more thing: There's no guarantee that Samsung's flagship phones next year will work with the 2015 Gear VR. Or that apps designed for 2016's phones will work on 2015 hardware. Phone technology iterates rapidly, as does VR.
StarVR
Now we come to the off-brand VR headsets. I'm not going to cover every single VR headset in this section because, frankly, there are too damn many. When this whole shebang started it was just Oculus in the ring. Now we've got a full-fledged battle royale, with dozens of me-too contenders.
But one of the interesting ones is StarVR. Developed by Starbreeze (the team behind Payday 2), StarVR was announced this past June, just prior to E3.
What makes StarVR unique is a focus on field of view. Both the Oculus Rift and the HTC Vive hit a "good enough" FOV of 110 degrees, while Gear VR tops out at 96 degrees. By contrast, the human eye has a 180 degree field of view when facing forward, and accounting for eye rotation that number jumps to as high as 270 degrees.
Using the Rift or Vive is a bit like looking through a periscope, in that your vision is limited to a swathe immediately in front. This isn't a huge deal, as that's typically the most important part of your vision. But it's noticeable!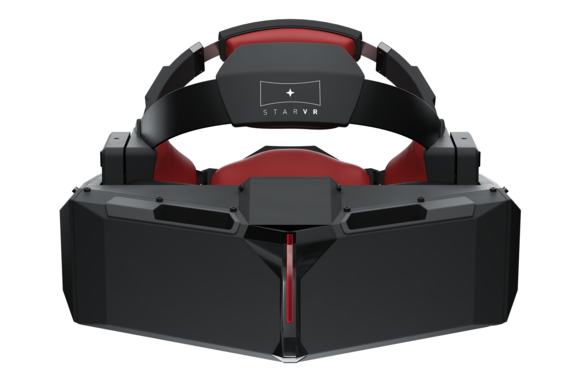 Starbreeze's luxurious StarVR.
StarVR boasts a whopping 210 degree field-of-view—almost twice the Rift or Vive—and a resolution of 5120x1440. The result is that, when facing forward, you're completely immersed in the scene. At E3 I went hands-on with a Walking Dead-styled demo Overkill built, which put me in a wheelchair as someone pushed me through an abandoned, zombie-filled warehouse. Widening the FOV makes a noticeable difference.
But there are some issues. Pushing that many pixels requires a lot of power—far more than the GTX 970 recommended by Oculus. We've barely started seeing single graphics cards that can effectively hit 4K resolution while gaming, let alone 5K resolution. You'd need one hell of a rig to use StarVR.
It's also bulky, heavy, and hot. The heat the huge displays generate is transferred straight into your head, which also can cause everything to fog up. It's a fantastic idea, but StarVR needs a lot of refinement before it could hit market.
Previous Page 1 2 3 4 5 6 7 Next Page