This chipset may prevent a network cacophony in your smart home
Broadcom's latest power-sipping IoT component speaks multiple network protocols.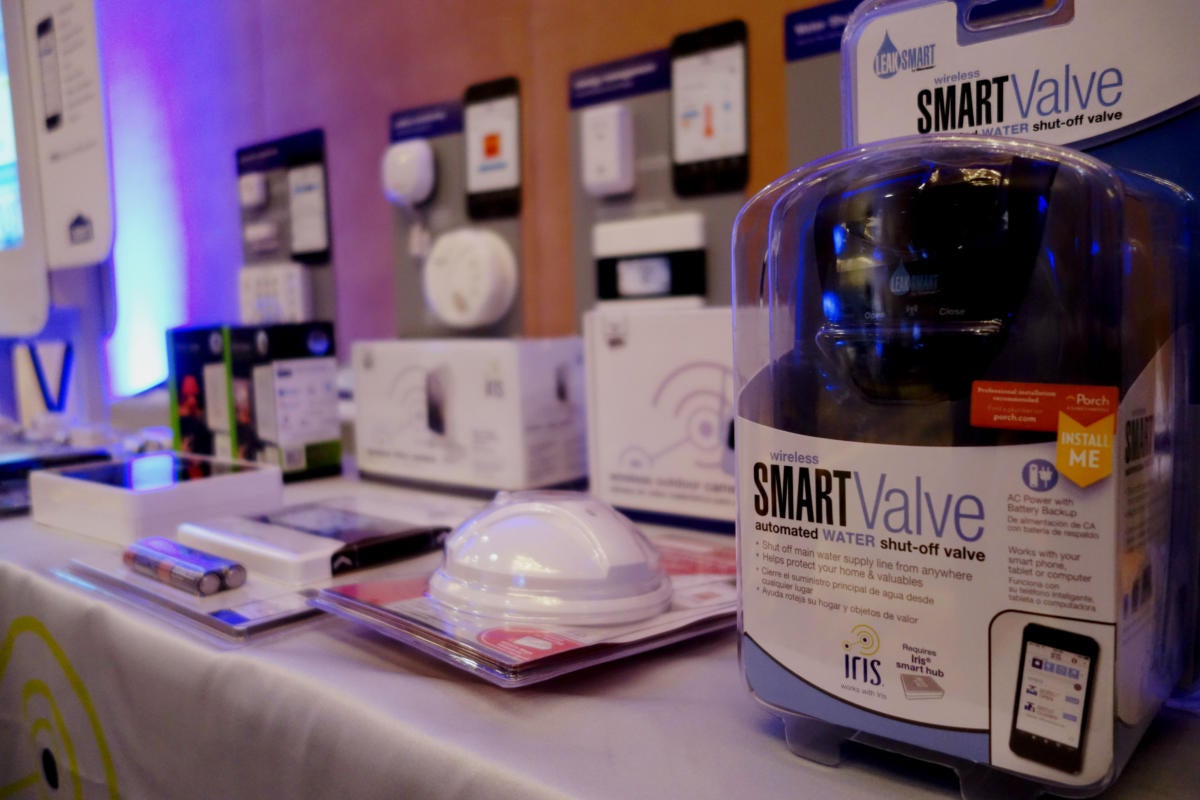 Home IoT products from home-improvement store Lowe's were on display at the Connections confer Credit: Stephen Lawson
Choosing smart-home products might get easier a year from now thanks to a Broadcom chipset that will be able to work with several competing network systems.
There's a long list of protocols and software frameworks going into the Internet of Things for the home, and a lot of them don't work together. The vision of a house full of devices that can automatically find each other and work in perfect harmony is still just that, and it's unlikely any one product will make that possible. But Broadcom is trying to solve a small piece of the problem while simultaneously cutting costs and power consumption.
The chipset that could help to simplify IoT purchases is the BCM20739, the top of the line in Broadcom's new family of integrated IoT chipsets. All are designed to power small, energy-efficient client devices like wearables and home appliances but could also go into hubs that link those gadgets. The components are shipping in sample quantities now and should be in consumer products for the 2016 holiday shopping season.
The BCM20739 can work with Bluetooth Smart plus four other important short-range, low-power network technologies: ZigBee, Thread, 6LoWPAN and IEEE 802.15.4. That last standard is key, because it defines the hardware that runs the other three systems.
ZigBee is already used in many home devices like lightbulbs and motion detectors. Thread is backed by Samsung, ARM Holdings, Nest and even Broadcom chip rival Qualcomm, and products have just begun to be certified.
If a home electronics device had to communicate with residents' smartphones as well as with other wireless objects nearby, it could use all the included protocols at the same time, said Brian Bedrosian, senior director of product marketing for Broadcom's embedded wireless business. Including all of them can also help manufacturers achieve economies of scale by using the same chip in multiple products.
Implementing all those protocols would require some software for each. Bluetooth, Bluetooth Smart and ZigBee 3.0 software stacks come integrated in the chipset. There are other networks the chipset doesn't include, plus competing standards at other layers that could conflict. But it's a start.
The WICED Core ELP (enhanced low-power) chipsets all include memory and flash storage, with the latter being integrated in a Broadcom low-power MCU (microcontroller unit) for the first time. The more components are built into a chipset, the less it costs to design and build a product. Broadcom says the new family is as much as 30 percent less expensive than current, comparable solutions from Broadcom and others.