We bask in 5K glory with the Dell UltraSharp 27 UP2715K
Look at these adorable kittens! We walk you through the ins and outs of 5K and tell you what you'll need to run it.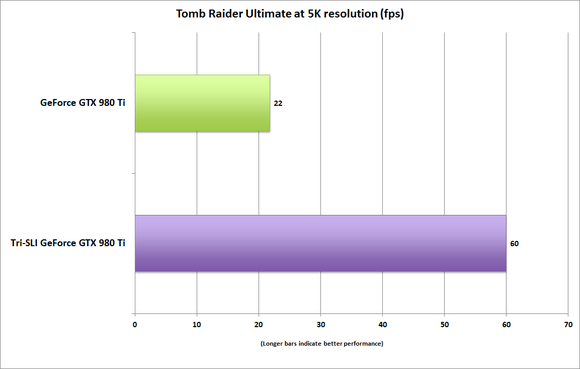 You will indeed big hairy GPUs and more than one to game at 5K resolution. Click on image to enlarge.
Going from a single GeForce GTX 980 Ti to three GeForce GTX 980 Ti cards pays handsome dividends. And this is just Tomb Raider. Anything more graphically intense, well, you better think about having at least three GPUs.
Conclusion
Dell's UltraSharp UP2715K is stunningly beautiful and stunningly expensive to run. Besides the cost of buying the monitor, there's also the cost of driving it with enough GPUs to game at its native resolution. For a lot of people, probably most people, it's just not worth it. You could, for example, get three 27-inch monitors at 2560x1440 side-by-side for less than the Dell.
But that doesn't solve the problem the 5K Dell solves—maximum pixels on a single panel. Three 27-inch 2560x1440 pixels still adds up to about 11 million pixels spread across three panels—that's still almost five million pixels fewer than the single Dell 5K monitor.
For someone who truly needs that many pixels on a monitor for CAD/CAM work or other professional chores, it's worth it. And of course there's the one thing everyone needs a monitor for: cat pictures.
Previous Page 1 2 3 4