What Ford's self-parking Edge says about the dubious future of driverless cars
The 2015 Ford Edge crossover is packed with useful high-tech driving aids. It just can't always park itself, so keep your eyes on the road, and hands on the wheel.
My hands aren't touching the steering wheel. The car is parking itself. It's an unsettling experience, but I'm trying to give technology a chance. Even when the 2015 Ford Edge successfully maneuvers itself booty-first into a perpendicular parking spot, all you can do is grip your seat bolsters and think about insurance deductibles.
But what happens when the Edge isn't so successful? Well, then you have to wrest control from the machine, and park your own damn self. Ford's high-tech driver-assist features have a lot to offer in toto, but when they don't deliver, you might as well be driving a '68 Ford Bronco.
Dig it: If your brain is hard-wired to believe man is master of all machinery, and robots require laws, and humankind must fight to the bloody end when Skynet rains hellfire, then you won't warmly embrace the computer-controlled driver-assist features from Ford and its competitors. Shoot, I was taught two hands on the wheel. But this?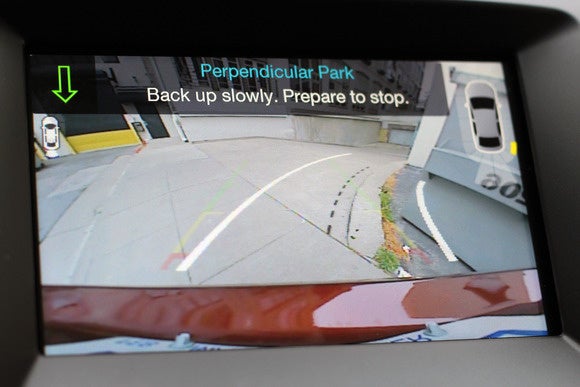 Melissa Riofrio The Edge's computer told my co-worker it would be OK to park into a trash bin. Note that even obstacle detection shows she's heading for trouble.
Low-level discomfort washes into something more alarming when Ford's automatic parking feature puts the Edge on a collision course with a trash bin, motorcycle or immovable metal pylon. Last week, the tech press breathlessly celebrated the promising future of driverless cars, but at the very same time I was exploring the embryonic present of driverless technology, and it wasn't always confidence-inspiring.
But let's start with the good news. Aside from unreliable parking-assist, the fully optioned Ford Edge includes a nice collection of driving aids that give me hope. So let's first explore these positives (you can jump to the section titled "Not so enhanced parking assist" for a peek at what happens when crossovers go rogue).
Clarifying blind spots
Selling for a suggested MSRP of $43,585, my Edge Titanium loaner didn't come with Ford's 315-horsepower turbo V6, but I did get the playfully named Equipment Group 302A, which includes a Blind Spot Information System, Lane Departure Warnings, Lane Keeping Assist, a front-mounted 180-degree camera, obstacle sensors, and the aforementioned Enhanced Park Assist system that gives me robot-apocalypse night sweats.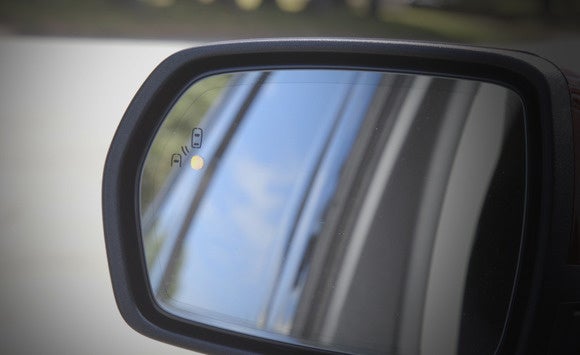 Note the amber LED on the left side of the mirror. Someone's in my blind spot.
Not all this technology is new for 2015—but it was new to me. My daily driver/dog ferry is a 2015 Subaru Forester XT, and its high-tech driving-aid story begins and ends with a back-up camera. My 2005 Lotus Elise track car has even fewer electronic assistants—there's no traction control, stability control, or even cruise control (and I had to option electric windows). So these are my baselines. Know that going in.