What Ford's self-parking Edge says about the dubious future of driverless cars
The 2015 Ford Edge crossover is packed with useful high-tech driving aids. It just can't always park itself, so keep your eyes on the road, and hands on the wheel.
It turns out I love a number of Ford's features, and I wish I had them in my Forester. The Blind Spot Information System takes the form of a simple LEDs situated on your side mirrors. When another car enters the Edge's formidable blind spot, the LED lights up, giving you a bit more visual information on those unpredictable free agents lurking in adjoining lanes. The system should never replace an over-the-shoulder glance before changing lanes, but it's a great value-add, and can teach you more about your blind spot locations.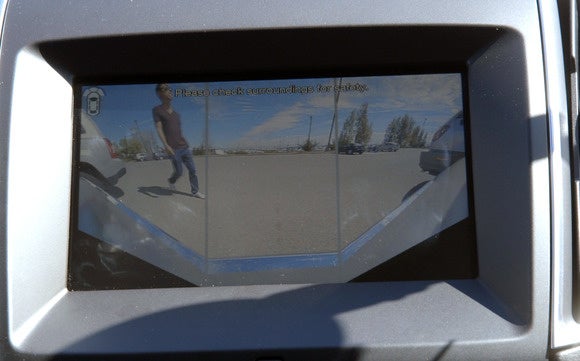 The 180-degree front camera. Most of what you see beyond the left and right hash marks is beyond the scope of human vision from the driver's seat.
I also appreciated Ford's 180-degree front camera, which literally peaks around corners and nearby cars to give you a view of cross-traffic. Imagine you've backed into a perpendicular parking space, and you're rubbing shoulders with two behemoth SUVs on either side. Lacking the front camera, you have to pull out ever-so-gingerly, lest you T-bone an approaching car, or smack a pedestrian. But with the camera set to its wide field of view, you have a second set of eyes via the display on your center console. Tech like this should be standard on all cars.
My steering wheel... it's vibrating?
My Edge loaner vehicle was also equipped with ultrasonic obstacle sensors that detect imminent low-speed impacts, 360 degrees around the car. The system came in handy when negotiating Ford's barge through the narrow apertures of parking garages, or even tandem parking in my own garage. Because the Edge is so large, it's difficult to tell where it begins and ends, so the sensors are welcome. Sure, you have to endure a lot of flashing lights and incessant beeping, but that's a small price to pay to stay out of trouble.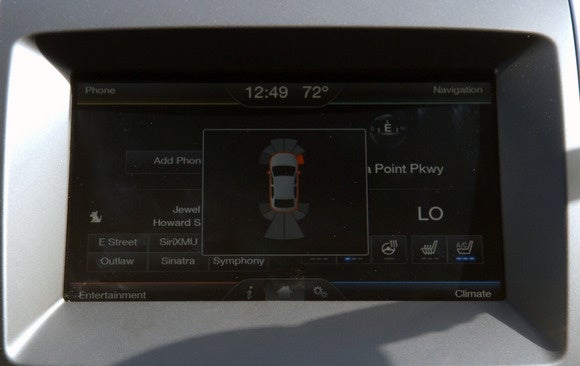 Ford's obstacle sensors come in handy when you're negotiating tight spaces. When the blocks surrounding the center console pictograph turn from yellow to red, you really need to stop.
I was less enthused with Ford's lane-keeping nannies, but still support them in concept—especially because they're relatively adjustable, and even when set to 11, they're still not excessively unnerving.
The concept is pretty simple: The system uses a front-mounted camera to detect lane markings on the road, and when you drift over a line, you feel a vibration in the steering wheel. This lets you know you're a sociopath who cares more about texting, eating, electric-shaving or applying mascara than the welfare of fellow motorists.
Previous Page 1 2 3 4 5 Next Page