What Ford's self-parking Edge says about the dubious future of driverless cars
The 2015 Ford Edge crossover is packed with useful high-tech driving aids. It just can't always park itself, so keep your eyes on the road, and hands on the wheel.
Reality check: You have to drive really far forward, like by a number of car lengths. The upshot is that your strange driving behavior doesn't signal familiar intent to other drivers. It makes you look like you have no interest in your target spot, leaving the door open for others to swoop in, and snag your spot nose-first.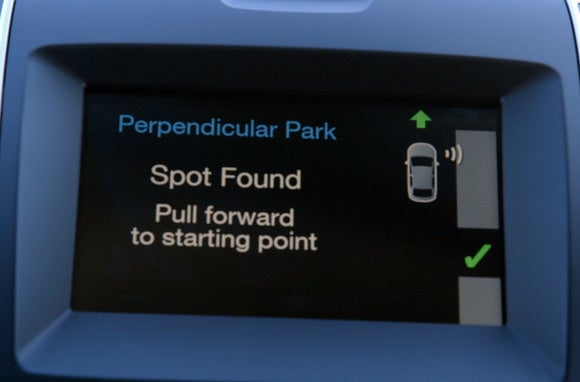 Now pull forward—farther forward that what feels comfortable.
Back the car in: But, OK, let's say the coast is clear. Once you've pulled forward, you take your hands completely off the steering wheel, and then use only the gas and brake pedals to maneuver in, booty-first. The car's ultrasonic sensors and computer will back you in with just right the steering angle (in theory).
Reality check: This is a slow, unnerving, and often ill-fated process.
First, I never got truly comfortable taking my hands off the steering wheel. Simply nothing about automatic parking feels natural or even safe. (Granted, I may be a victim of my own muscle memory. Newly licensed drivers may react differently.)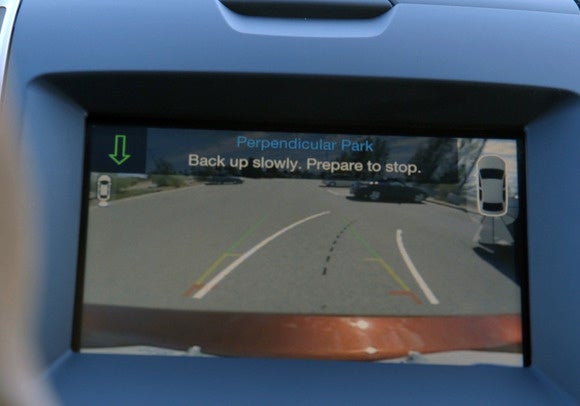 Now back in slowly. Keep your hands off the wheel, or it doesn't work.
Second, because the car's sensory awareness is actually much better than a human's, it can cut very close to neighboring cars without the risk of damage. This creates spine-tingling moments where you see imminent doom in your mirrors, but the center console tells you all is clear. As such, the backing-in process proceeds sloooowly. Because who can you trust?
Third, the computer is surprisingly fallible. Executive editor Melissa Riofrio and I tested the Edge for a number of days, and we both found that Enhanced Parking Assist would direct us into spaces that just weren't free and clear. She would have hit a dumpster had she not aborted the Edge's recommended collision course. I would have hit a parked motorcycle. And another car.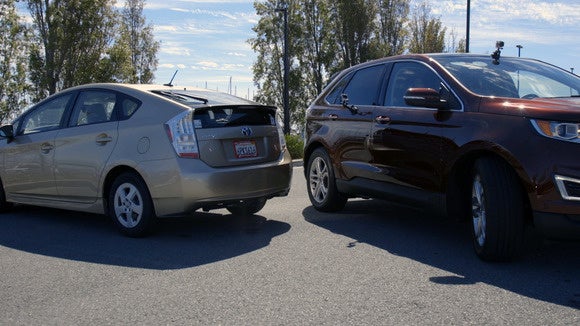 The Edge likes to cut in pretty close to other vehciles when it's parking. (The approaches are even more dramatic during parallel parking.)
In its owner's manual, Ford reminds us that man must ultimately remain master of machine: "At all times, you are responsible for controlling your vehicle, supervising the system, and intervening if required." Still, knowing what we know about the utter recklessness, and fecklessness, and willingness to fail of American drivers, shouldn't the system be just a little bit smarter?
Can we really reach autonomy by 2020?
Previous Page 1 2 3 4 5 Next Page