What I'm Playing: On magic, mechanics, and musical hotel management
Hotels with a beat, mafiosos to beat, and wizards who can't help beating each other.
And what fabulous worlds they are: the game's art deco style is charming and colorful, belying an occasionally merciless difficulty curve that encourages quick thinking and a bit of strategery, particularly for the occasional boss fight. Play this one with headphones to get the most of the on-the-fly music generation, and you won't be disappointed.
Magicka: Wizards of the Square Tablet (iOS, Android; $1.99)
Remember Magicka? Released back in 2011 for Windows, teams of up to four wizards first took on a sorcerer's evil minions through a hilarious campaign bolstered by an intuitive and chaotic combat system. Wizards of the Square Tablet is a brilliant return to form, in spite of the sacrifices made to fit a finger-friendly format.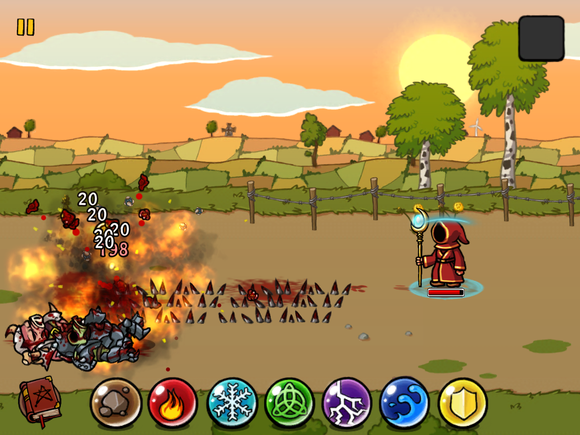 Magicka is a fast-paced finger-friendly spellcasting game for you and three of your friends.
Magicka's gameplay has been simplified, but mostly intact: you play as a wizard, taking on the forces of evil with up to three friends or strangers online--the game offers cross-platform play across Android and iOS devices. There is no "mana" to charge your spells, and not much in the way of equipment to juggle. Tap on up to four of the game's seven elements to create spells with distinct effects. Here are some examples: select the fire and shield elements and tap yourself to defend against fire attacks, or tap the ground to create a wall a flame to thwart enemies. You can heal yourself by tapping the Life element a few times and then tapping your character, or shoot a beam of healing life energy by tapping anywhere on the screen--useful for healing friends, or attacking the undead.
The rabbit hole gets deeper: use the water element to soak enemies, and then follow up with a blast of ice to freeze them into place. Or follow up with a lightning bolt, only to realize there was a bit of splash back when you cast water so now you've gone and electrocuted yourself, or your friends. Enemies flock onto the side-scrolling stages in waves but are nonetheless relentless, and you'll quickly find yourself overwhelmed as you juggle protecting yourself from enemy spells, constructing and casting spells to exploit weakness, and generally trying to keep yourself and your allies alive.
In short, it's all rather fun. Give it a shot, and get some friends (or enemies) to tag along.