What you need to know about Amazon's Fire Phone
We spent some time with the new smartphone from Amazon and can answer any questions you might have.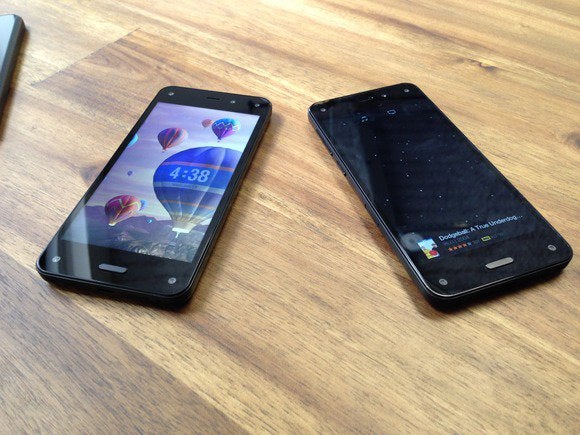 Amazon is getting ready to tread on the well-worn path that Apple, Samsung, LG, and countless others have already blazed. So how does the soon-to-arrive Amazon Fire Phone stand out from the rest of the smartphone crowd? By playing to Amazon's strengths--e-commerce and access to digital content--to build a device that's not so much a phone as it is a shopping device that also lets you make phone calls.
But there's more to it than that--a lot more. We had some hands-on time with the Fire Phone after Wednesday's unveiling, and we've got answers about any questions you might have about the latest marquee entry to the smartphone market.
When is the Fire Phone available?
The Fire Phone arrives on retail shelves on July 25. You do not need to twiddle your thumbs between now and then, however; Amazon is taking preorders now if you've decided that you seen enough already and can't wait to hand over your credit card info to Jeff Bezos.
What capacities does the phone come in?
You can choose between two sizes--32GB and 64GB. The 32GB phone will cost you $199 with a two-year contract. Amazon would like you to know that you'd pay the same price for a 16GB iPhone 5s or 16GB Galaxy S5. Jumping to the 64GB version of the Fire Phone will add another $100 to the price tag. If you skip a contract, you'll pay $649 and $749 for the 32GB and 64GB, respectively.
OK, so which carriers do I have to sign the contract with?
AT&T will be the exclusive carrier for the Fire Phone. That's a bit of a departure from how Amazon has previously handed wireless connectivity for its mobile devices--you can get a Kindle Fire HDX tablet that works on either AT&T or Verizon, for example. It's a double-edged sword for Amazon, obviously. On the one hand, exclusivity gives Amazon access to AT&T's massive customer base and reach. (AT&T is the second-largest mobile carrier in the country, after all.) But would-be customers who don't want to do business with AT&T--either because of poor dealings with the carrier in the past or poor coverage where they live--will end up taking a pass on the Fire Phone, at least until it becomes available through other carriers. Whenever that might be.
Jeff Bezos didn't really talk much about the specs inside the Fire Phone. What's inside of it?
Wednesday's presentation focused more on what you can do with the phone, that's for certain, but if you'd like to know what's powering the Fire Phone, you'll find the specs toward the bottom of the Fire Phone's Amazon store listing. The phone runs on a 2.2GHz Quad-core Snapdragon 800 CPU, with Adreno 330 graphics processor and 2GB of RAM. That's not the highest-end mobile processor--that honor goes to the Snapdragon 801, which you'll find inside the Galaxy S5, the HTC One M8, and the LG G3. But it's still quite good: The Snapdragon 800 CPU powered the top phones at the end of 2013 and the start of this year.