When is your phone getting Android Marshmallow? Here's what we know so far
Whether you have a Samsung, Motorola, LG, HTC, or Nexus, we run down all the latest news and rumors about when Marshmallow is coming your way.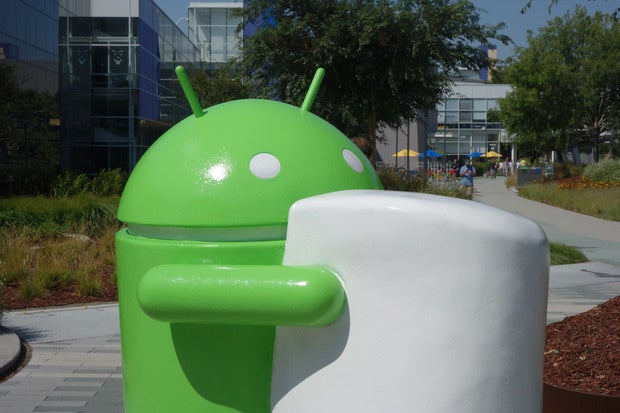 A statue for Google's Android Marshmallow operating system sits on the Google campus in Mountain View on August 17, 2015. Credit: Martyn Williams
Android Marshmallow is here! Well, sort of.
You see, Android updates are a tricky affair. Unless you have a Nexus device, where you get the updates directly from Google, it's a bit of a slog before you can actually get the latest Android OS on your phone.
That's because there's a process. It's quickest with unlocked phones, as the manufacturers test the software on their devices, and then will zip it your way when it's ready. It's even longer if you have a phone purchased through a carrier. After the manufacturer prepares the software, they have to run it through Verizon, AT&T, T-Mobile, Sprint, or whomever you have service with to incorporate carrier-specific features (and bloatware) and test the new software thoroughly on the network. After some collaboration, the carrier will then approve the update and push it out to your device.
Here's what we know at this point about when your phone or tablet will get Android Marshmallow. We'll update our list as the carriers or handset makers detail their plans.
Nexus
Factory images are here for these Google-branded devices. You can wait for an over-the-air update, or follow our guide to install Marshmallow yourself. However, notice what didn't make the cut: the Nexus 4, 10, and 2012 version of the Nexus 7. Hey, nothing lasts forever. Here's the full list:
Nexus 5
Nexus 6
Nexus 7 (2013, Wi-Fi and LTE models)
Nexus 9
Nexus Player
Also, the OTA updates are on their way. You'll get a push notification on your Nexus device when it's ready for you to download. Typically Google sends these out in stages to ensure they don't wreak any havoc, so it could be several days or even a few weeks before Marshmallow arrives for you.
Samsung
Updates with Samsung are a little harder to nail down because the company sells so many versions of the same phone. So an AT&T Galaxy Note 5 will be on a different update timeframe than a Verizon model. However, it's a safe bet the following devices should see Marshmallow at some point, though it's going to vary widely based on your carrier:
Galaxy Note 5
Galaxy S6
Galaxy S6 Edge
Galaxy S6 Edge+
In the past it's usually taken a few months for Samsung to push out major OS updates. So prepare to be patient. The good news is that all its flagships and many mid-range devices eventually got Lollipop, so even if you don't have the latest Galaxy smartphone there are good odds you'll see Marshmallow at some point, even though only high-end devices have been confirmed so far.