Why iOS 7 will kill some apps (and make others stronger)
There's a lot to be excited about after Monday's announcement of iOS 7. Flashy new design! Panels! Automatic app updates! Voice calls over FaceTime! Such system-wide changes aside, some of the biggest changes to iOS are found in Apple's own mobile apps. Several of the stock Apple apps for iOS are being revamped, gaining new features and deeper integration with the Apple ecosystem.
Whether the weather is cold...
Apple's Weather app does what it's supposed to: it tells you the current and projected weather forecast for locations around the world. But it does so without much pizzazz. Its city profiles and weather info are a little lackluster, with the daily or hourly forecast providing only basic temperatures and conditions.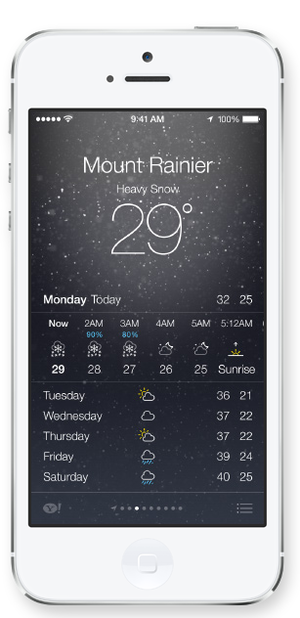 Weather now features animations to show current conditions.
Other weather apps, such as the Weather Channel and Forecast.io, have long overshadowed Apple's Weather. They have neat animations, more detailed forecast info (things like wind speed and humidity levels), and a more enticing design overall.
That will change with iOS 7, because the stock Weather app is getting a dramatic facelift. Weather details will appear over a large graphic of current weather conditions, which sometimes feature animation. (Apple senior vice president Craig Federeghi demoed the app with a stormy sky complete with flashing bolts of lightning.) Users can still save city profiles, which are displayed as stacked tiles with an overview of current conditions in each city. The new design looks sleek and elegant, with more detailed information to boot.
One weather app that is sure to suffer is Yahoo Weather. Apple still pulls weather information from Yahoo, and the new Weather app's design looks oddly similar to the standalone Yahoo Weather app for iOS. (Is it any coincidence that Apple just gave that Yahoo app an Apple Design Award?) Although it still isn't quite as detailed as other offerings, Apple's built-in app should provide users with a better weather experience than before.
Photo filters
Even though Instagram is the undisputed king of filters, the App Store still has plenty of other photo apps designed to provide these retro special effects. They're probably most attractive to users who want the fun filters, but don't want to play by Facebook's rules and iffy privacy standards.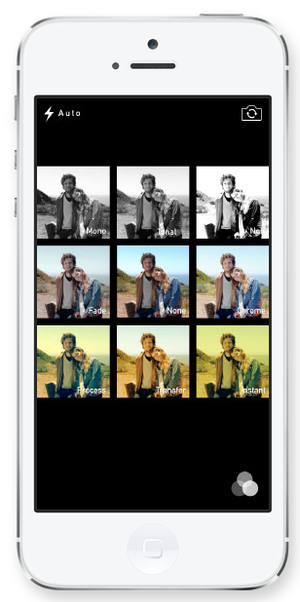 Add filters straight from Camera.
But with iOS 7, iPhoneographers won't need to rely on another camera app just for filters, because Apple's Camera will include a pack of built-in filters that can be applied to your photos. You can choose a filter before or after a photo is taken, and if you don't like the outcome, you can remove the filter or try a different one. Camera even includes a square-shaped shooting format, which eliminates the need to manually crop a photo in Instagram if you do want to share it there later.