Why some apps belong in the menu bar, not the Dock
Some apps have started to put their icons up in the menu bar instead of in the Dock. Rob Griffiths thinks this is a great boon for usability.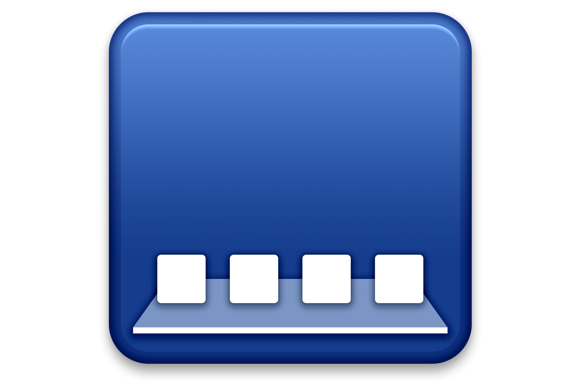 If you install a lot of third-party apps, you may have noticed a trend: More and more programs these days run as icons in the menu bar--either solely in that mode or as an option in lieu of (or in addition to) a normal Dock icon. The list of such programs is huge, and includes such prominent apps as Dropbox, ScreenFlow, TextExpander, and hundreds of others. (Disclosure: The company I work for, Many Tricks, produces several apps--including Desktop Curtain, Moom, and Time Sink--that also offer the ability to run in the menu bar or the Dock.)
Putting on my user hat (as opposed to my Mac developer hat), I generally like this trend, especially when it means I have some choice about where a given program appears. Having that choice gives me more control over three key features in OS X: the Dock, the menu bar, and the Command-Tab program switcher.
The Dock: I prefer a lean Dock, one that primarily shows active applications. I keep only a handful of icons there permanently, as I rarely use the Dock as a launcher. I also keep my Dock hidden (more pixels for windows), and occasionally I move my Dock to a different screen edge, depending on what I'm doing. (I usually use the Command-Option-D shortcut to toggle its visibility.) This means the Dock isn't a good place to put icons that convey status information, because first I have to find it before I can see what's in it. For certain classes of programs, keeping them in the menu bar and off the Dock makes more sense.
The menu bar: Unlike my Dock, the menu bar is always visible, and always in the same location. This makes it a perfect spot to keep apps that display information or that I want quick access to but don't need to interact with regularly. What types of programs have I just described? Utility programs, primarily--apps that I have running all the time, but that don't necessarily require ongoing interaction or an ever-present window. The menu bar is ideal for such programs, because I can tell that they're running and I can get to their interfaces, and they're not stuck in my Dock.
The Command-Tab program switcher: This may be the best reason to keep certain programs in your menu bar and not in your Dock--you won't see menu-bar-only programs in the Command-Tab program switcher. It may seem like a small thing, but given that I switch programs hundreds of times a day, this arrangement is a big timesaver: It's much easier to find the program I want when I don't need to navigate through a series of utilities that I rarely access directly.