Why the HTC Vive is still the most captivating VR headset on the horizon
We get on our feet for a second HTC Vive hands-on.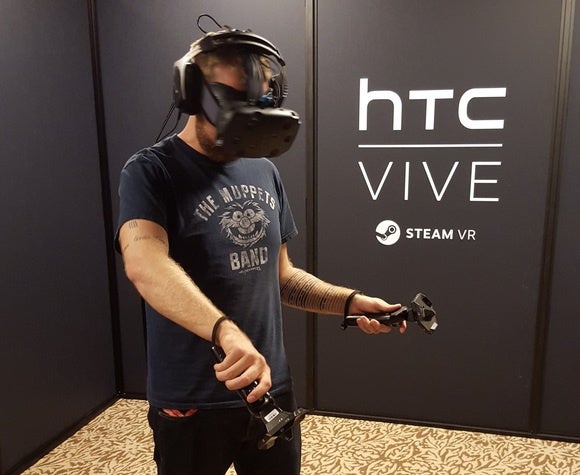 We're roughly two months away from the HTC Vive's launch and details are still distressingly scarce.
How much will the thing cost? How much space do I really need in order to set it up? Has Valve's involvement and the SteamVR branding helped draw in developers? Does this thing have games ready for its debut? How many units will actually ship in November?
All valid questions, and ones I hope we learn the answer to soon. And yet—and yet—all those worries faded to the back of my mind recently when I got the chance to go hands-on with the Vive a second (and third) time. Why? Because there's one thing I'm sure of, regardless of the above answers: The HTC Vive is still the most impressive virtual reality tech currently coming to market.
Walkabout
A caveat: I don't necessarily mean it's the best consumer product. That designation is still extremely dependent on some of the aforementioned questions—price being the number one issue facing virtual reality at the moment.
Set all that aside, though. Taken in pure isolation, the HTC Vive is incredible.
I'd begun to have doubts, to worry my memory was skewed. The last time I used the HTC Vive was back at GDC. That was in March, six months ago, and at the time the Vive was a hokey prototype that required me to belt a bunch of cables around my waist—although it was still enough for me to claim Oculus had been "dethroned" as the VR frontrunner.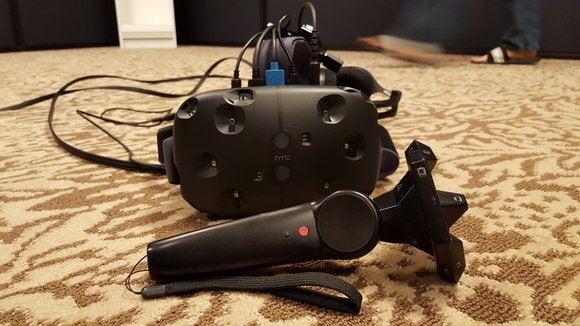 This is the HTC Vive as it looks in September, 2015. It's less of a prototype than before. Pardon the carpet.
Six months is a long time in a fledgling field like VR however, and a lot's happened since that first Vive demo. Oculus unveiled its full consumer model Rift and even debuted Oculus Touch, two hand-tracking controllers similar to the Vive's utilitarian wands. And both are great. The consumer Rift is a logical progression from the second dev kit and the Crescent Bay prototype, and I had a hell of a time with Oculus Touch at E3.
In short: The Oculus Rift will probably (barring catastrophe) be a great virtual reality headset, and all signs point to it coming in quite a bit cheaper than the HTC Vive—important if the technology is to reach critical mass with consumers.
But the HTC Vive is still better.
Six months ago, cordoned off in a blank white room with the HTC Vive, I got my first official taste of walking-around-VR. The system makes use of two base stations (designated "Lighthouse") which tracks both your position and two controllers within a fifteen-by-fifteen foot area. Within that space you can do whatever you want.