80 Days' twisting, globetrotting adventure will be even wilder on Mac
We chat with Inkle about bringing the iOS narrative game to desktops this month.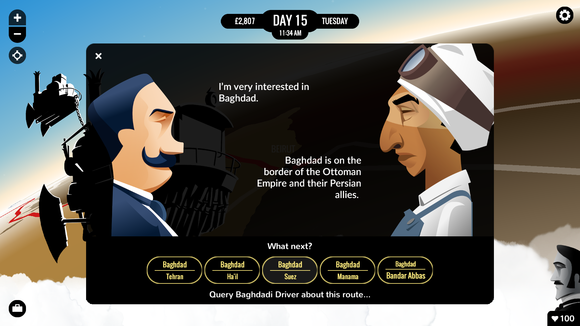 Drive each conversation carefully: unexpected new options can emerge, but these chats don't last for long.
"There were big gaps in the map—most notably in North and South America, where we only had a few cities and ways to get across," he concedes. "We knew we wanted to fix that, and we also had some other ideas we wanted to get into the game. Jules Verne's work is full of inventions, challenges, and adventures, and we had a few more places we wanted the player to go."
Inkle already added a challenging "cheat" route through the North Pole last Christmas, but Ingold says the studio has a list of uncharted areas on its wish list. Canada is an obvious omission; Atlantis is a bit more out-there (and fascinating). All told, the new content adds 30 more cities to the mix, for a total of 170, which will help twist and extend the endlessly replayable quest in significant ways.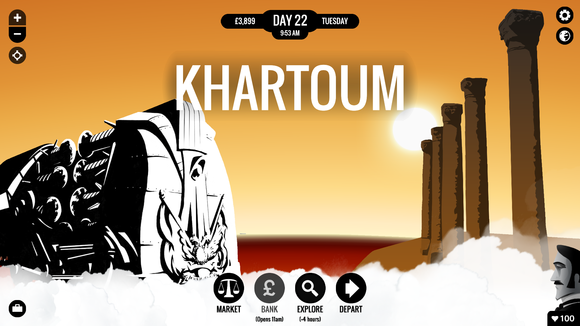 Each new stop presents an opportunity to buy/sell items, withdraw money from the bank, and drive the story along by exploring the surroundings.
"There are new love affairs, new revelations, new short-cuts, and new risks. Some of the new storylines are massive, spanning the entire globe; some are little secrets and hidden outcomes," he explains. "So: Join forces with an international jewel thief; play poker with a billionaire; go over Niagara Falls; travel to the Moon…"
If reading all that makes you anxious as a fan of the iOS version, you won't have to wait for long: Inkle will release all of the extra content as a free App Store update just a few days after the Mac and PC version launches. Selling the desktop version will help cover the costs of developing the extra content, meaning mobile players benefit. "We didn't want to go down the [in-app purchases] route: paid updates aren't right for the game; they stop the player exploring freely," he affirms.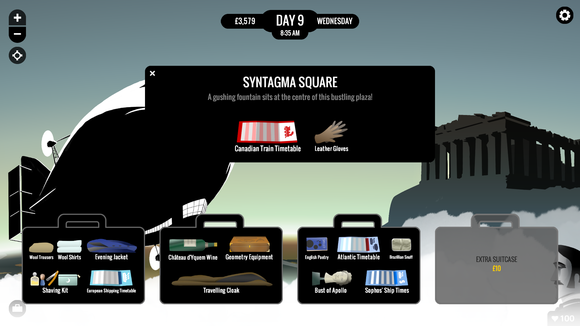 Carrying a lot of luggage can prevent you from some booking some forms of transportation, but items can be valuable in seeking new paths—or earning cash via local supply and demand.
New journeys
While the core content is mirrored across platforms, bringing a game like 80 Days to computers isn't as simple as dumping the touch version on Steam. Not only are the interactions different on Mac, but so is the way you take in games: Viewing something on a large screen on your desk or in your lap is a lot different than a handheld device. That meant that Inkle—with help from Cape Guy Studios—had to reframe the existing game a bit to optimize it for Mac.