AMD pushes FreeSync forward with support for HDMI, mobile, DisplayPort, HDR
Lenovo's Y700 laptop will be the first with FreeSync.
AMD to support DisplayPort 1.3
The new Radeon Technologies Group also announced it will support DisplayPort in its upcoming GPUs next year. DisplayPort 1.3 HBR3 will increase the bandwidth to 32.4GBps, which is about 80 percent more than even HDMI 2.0 and almost twice the bandwidth of DisplayPort 1.2.
It may sound crazy, but it's just keeping up with display technology. A single DisplayPort 1.2 connection has just enough bandwidth to drive a UHD 4K monitor, but a single 5K panel, such as Dell's Dell UltraSharp 27 UP2715K, requires two DisplayPort 1.2 connectors. Higher refresh rates and High Dynamic Range content will also require far more bandwidth than today's DisplayPort can drive. DisplayPort 1.3 could run a 1080p panel at 240 frames per section and enable HDR down the road.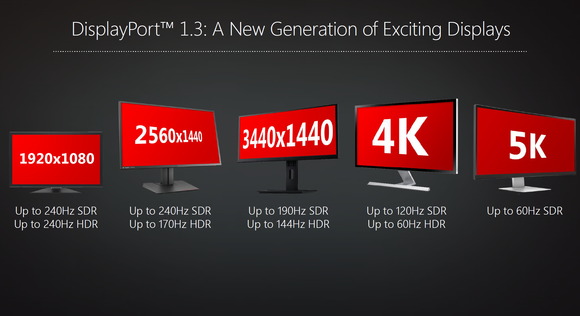 DisplayPort 1.3 can drive a 5K panel using a single cable rather than two, and support HDR and higher refresh rates on lower-resolution monitors. Click on image to enlarge.
HDR color's coming, too
AMD's other aim-high announcement is its plan to enable high dynamic range gaming and movies eventually. Many games are actually already rendered in HDR today, the company said. But because GPUs aren't made to output it and monitors don't support it, it's mapped to standard dynamic ranges.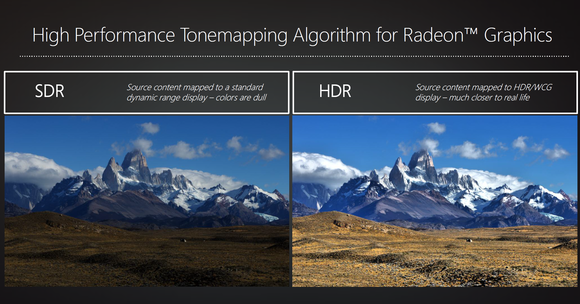 Here's what AMD said an HDR game could look like.
High dynamic range itself is the ability visualize a brightness level far outside what is "normal." For example, you wouldn't typically be able to see an object lit by the sun and see into the deep shadows simultaneously. With HDR, you could.
The typical color chart below shows the colors used today. The black triangle is sRGB used in PCs and Blu-ray. The blue triangle is a spec called Rec. 2020 and is considered the "Holy Grail" of color space.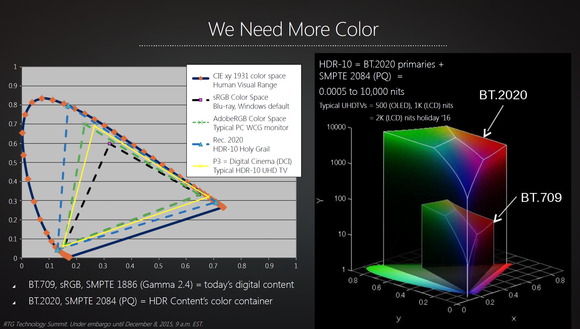 AMD said its pursuit of HDR would greatly enhance color in gaming, images and movies. Click on image to enlarge.
The target is to enable HDR gaming and imaging using the current Radeon R9 300-series GPUs next year. Radeon GPUs introduced next year will enable HDR movie playback using HDMI 2.0 and DisplayPort 1.3, AMD says.
AMD claims 1080p with HDR will look better than a 4K image with SDR. The missing component is HDR monitors, but the company said it expects HDR monitors for the masses to be available by the end of next year.
There's one monitor available today: Sony's BVM-X300. It's a 30-inch 4K OLED monitor that pushes $18,000. Obviously, for AMD's HDR inititiave to gain steam, we'll need cheaper HDR monitors, but the company is confident that will happen soon enough.