Best home security camera: Our favorite tools for keeping an eye on the home front
A boom in wireless security cameras is inspiring a movement in DIY home surveillance. Follow our buying guide and read our reviews to find the best option for you.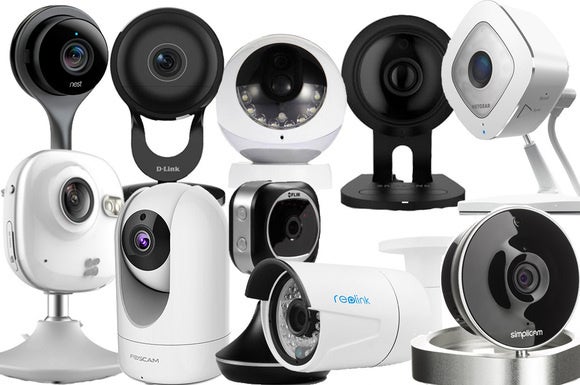 Rent or own, we all want to know our homes are secure while we're gone. That used to mean signing on with a professional—and pricey—security service like ADT. But the boom in wireless security cameras is putting home surveillance into our own hands.
These close cousins of webcams require minimal installation and offer flexible setups and a range of security features. Indeed, the offers vary widely by camera, and navigating them all gets more daunting as this category grows ever more crowded. To help you find the best security camera for your needs, we've outlined the key features to consider and tested six of the newest, most high-profile models.
Whether you're looking for an easy way to check on your kids and pets, or a full-service sentinel to monitor for intruders, we'll help find the right product for your needs.
Best home security camera: Reolink RLC-410
Our favorite home security camera at this time is Reolink's RLC-410. It's remarkably inexpensive for all the features that it delivers, including a weatherproof enclosure, extremely high resolution of 2560x1440 pixels. To make it easier to deploy in outdoor locations, the RLC-410 also features PoE (power-over-ethernet), so that you need to run just one cable—CAT5e or better—from your router to the camera.
And unlike so many home security cameras these days, the RLC-410 doesn't require a cloud subscription to storage its video captures. You can either store them on a local PC, or purchase one of Reolink's network video recorders and store the video there (this eliminates the need to run a PC 24/7.
Runner up
Nest Cam
The Nest Cam is a terrific choice if you're looking for an indoor security camera. Being the successor to the popular Dropcam Pro, the Nest Cam delivers improved video resolution, better sound and motion detection, and it can see better in the dark than the original model.
While you can't deploy one outside (at least not without purchasing a weatherized enclosure), the Nest Cam does include some features you won't find in our top pick, including two-way audio, noise detection, and a stand that doesn't need to be fastened to a surface. You also won't need a PC or an NVR to store the Nest Cam's video captures, because it uses the cloud for that (with the obvious downside being an ostensibly optional subscription. Without the subscription, you can see only live video from the camera.)
What to look for when shopping
Most home security cameras perform the same basic functions—they detect an event, record the event, and send you an alert—but they don't all perform them the same way. And some cameras have special features that go beyond those basics. Here are some common features you'll encounter while shopping and why they're important (we've listed them in alphabetical order). In each of the reviews that follow this buyers' guide, we'll discuss how each camera delivers on these features.