Bowers & Wilkins Zeppelin Wireless review: The Brits have done it again
It's one of the best single-cabinet stereo speakers in the world, and you no longer need to be an Apple user to enjoy it.
Finally, the new Zeppelin Wireless' cabinet was re-engineered to be more rigid and resistant to vibration. Fabricated from 30-percent glass-fiber-reinforced ABS, its walls are 50-percent thicker than earlier generations. Turn the unit around and you'll discover that the bass ports are gone, too. They've been replaced by a number of small vents to relieve the internal pressure that would restrict the driver's movement. Run your fingers along to the top of the cabinet and you discover slightly raised buttons for volume and transport control (play/pause).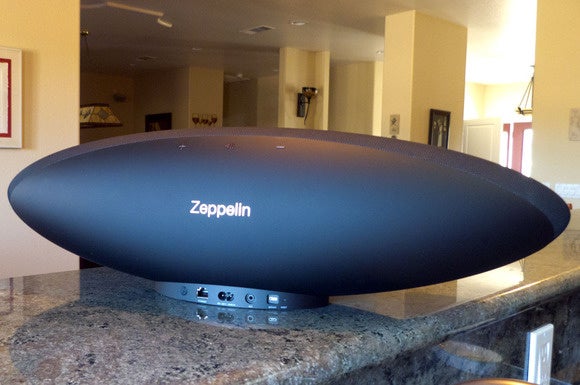 Look ma! No bass ports! Credit: Michael Brown
Bluetooth and Spotify Connect
Being a Zeppelin, you know the speaker is going to support Apple's AirPlay wireless music-streaming technology. But Bluetooth support means it will appeal to anyone who appreciates great audio. Pairing my Android phone was a snap. You simply touch the right-hand-side of the base to put the speaker in pairing mode and then look for the speaker on your phone or tablet. I found Bluetooth range to be excellent: I could wander more than 60 feet into another part of my house before the stream started breaking up.
If you want to use Spotify Connect (you must be a paid subscriber, it's not available at the free tier), but you don't have an iOS device, you'll need to download B&W's control software to a Windows PC or a Mac. There's a one-time procedure that's required to add the speaker to your Wi-Fi network, but there is no Android app at this time.
If you live in a mixed Android/iOS home, know that switching back and forth between AirPlay and Bluetooth is a bit of a chore. To change from Bluetooth back to AirPlay, I had to first unpair the Bluetooth devices, and then switch iTunes from the Zeppelin to the iMac and back again before AirPlay would resume streaming to the Zeppelin.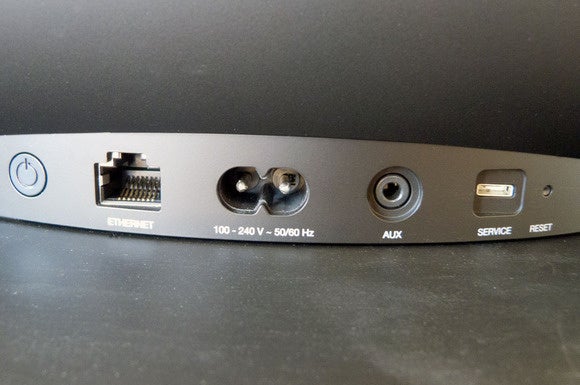 Connectivity has been drastically simplified: Just ethernet, power, and aux input, and a USB port for firmware upgrades. Credit: Michael Brown
Listening tests
I listened to a number of tracks encoded in Apple Lossless and streamed over AirPlay, and several songs encoded in FLAC and streamed over Bluetooth. When I played Dave Brubeck's "Blue Rondo À La Turk," from his album Take Five, I was very impressed with the Zeppelin Wireless' stereo separation. The ride cymbal sounded as though it was emerging far left of the actual speaker, and the walking bass line was rendered with exquisite precision. I could hear each string vibrate as the bass player plucked it.